Dedicated To
January 7, 2012
I don't talk. That's not me. I am not very social girl. I can do the small talk. The talk where you say, "hey how are you," but not really caring how they actually are, not wanting the real truth. The talk where you gossip about how the physic teacher might secretly be a serial killer or how the math teacher looks pregnant. The only person I talk the deep talk to is my non-biological sister.
My sissy.
She knows me, the real me. She knows when I am lying, when I am sad, when I have been crying in the bathroom during Spanish, when I feel good. She knows what I like and what I don't like. I can put on my best mask. The mask with the smile and the laughing. The mask that fools my parents, my friends, my siblings, my extended family, my teachers, the noisy student dean. But it does not fool sissy. Why, I don't know. I don't know how she can see through the mask and see the tears hidden just waiting for the right moment to explode. She knows my deepest darkest secrets that nobody else knows. She knows when I am hiding in the bathroom wasting away precious class time. She knows why I am hiding in the bathroom. She knows that I have headaches twenty- four seven even though I have never told her. She knows how easily over-whelmed I get. She knows me. How she knows that stuff, I don't know. We haven't known each other long.
The one thing I am not certain about is if she knows I love her.
I love you sissy, you're my best friend. And I will always forever till the end of time and past that. Always love you …………………………………………….
And I have dedicated this to you.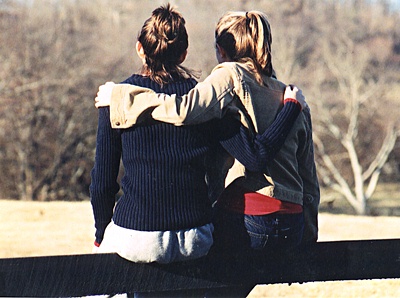 © Jaime M., Wichita Falls, TX