Million Dollar Necklace
January 12, 2012
I remember when I was about six years old, my mom came home at night with a shiny gold chain necklace she bought for me. I ripped off the string with the twenty dollar sticker on it and put it on. It was a little too big, but by the time I got to middle school, it fit perfectly. The necklace rarely came off my neck.
Even though I always wore the necklace, I didn't think too much of it. Most of the time, I forgot I was even wearing the necklace. Maybe it was because the necklace was only twenty dollars, or because it was just something my mom bought randomly for me for no special reason. Little did I know, I was getting attached to the necklace more and more everyday.
When this economy fell, it really affected my family. Money was getting tight, and things got worse and worse everyday. I desperately looked for ideas to help out the family. I remembered the lecture my history teacher had, and my teacher mentioned how the price of gold sky rocketed. Then on that same day, I came across this cash for gold ad while looking through the mail, and it gave me the idea to cash in my necklace. So the following weekend, I went to a cash for gold store. I handed the lady at the front desk my necklace to see how much I can get out of it. We sat down and she ran three different tests to make sure the necklace was real, and then she weighed the necklace. After punching the calculator a couple times, she gave me the price of my necklace. I was shocked after she told me an outstanding number. The necklace that my mom bought eleven years ago for twenty dollars was now worth one hundred and eighty dollars! I quickly told the lady I would take the offer, so she brought in some papers for me to sign.
After filling out the paper work, I had one last thing to sign. Right when I was about to sign the paper, something didn't feel right. I thought about what the necklace meant to me. It was something I owned for eleven years, which I have never owned anything for that long. I also thought about all of my past experiences and how I was wearing the necklace throughout those experiences. Even though it was just a necklace, it was very hard for me to let go, even for a hundred eighty dollars. I ended up not signing the last paper, and told the lady I was going to think about the offer a little bit more.
Two long hard weeks later, things were still not getting better. I decided to cash in the necklace. I went back to the cash for gold store and had my necklace rechecked. The necklace calculated to be one hundred and ninety dollars because the price of gold went up, and I signed the papers and took my check.
I was surprised how much the necklace meant to me. For eleven years I didn't think much about the necklace, but now I realized how much more it was worth to me than I thought. The necklace had much more value to me than a hundred ninety dollars!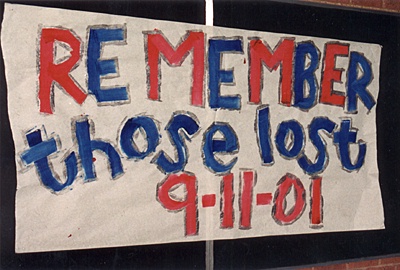 © Christopher A., Phoenix, AZ