ACE Outdoors Experience
December 20, 2011
Forty dollars was an extremely cheap amount to pay for a trip and time of this quality. I go to school at the Alternative Center for Excellence, or ACE Every year they plan many exciting field trips, which include going through tough weather conditions and tests of physical stamina/endurance. Teachers Kyle Troccolla and John Webber created these types of field trips to get students out of the building and literally into the wilderness to experience the nature of the world.

This was an experience that challenged me. The hike pushed me to my limits, physically and emotionally. Obviously the physical toll was tremendous, miles upon miles of uphill walking in extreme cold and icy terrain. What I was not prepared for was the emotional toll that was put onto me. Sleeping outside in the blistering cold was an experience I will never forget.

Anthony Hellman and Kyle Troccolla created the trip about nine years ago. It was Ant's second year as a teacher and Kyle was just a mere rookie. In the youth of their teaching career they decided to be bold and exciting by starting this field trip. It was originally a 14-mile hike, but they added a practice trip, which is another 7-mile hike itself. I asked Kyle why he had invented this trip. He said, "It was a new way to challenge ourselves/our students and to get out of our own comfort zones." I can definitely say it brought me out of my comfort zone. I have never gone camping before, or on a hike of such serious extent. I was very overwhelmed with the trip at first. I knew I was in pretty good physical state, for walking I thought anyways. Turned out everything's a lot different with a 40 lb. backpack on your back. First few miles I was fine, until we hit the treacherous uphill section. My calf muscles were being worked harder than every before to the point where I thought my muscle was going to tear and I was going to be screwed. Although I was not fully ready for this trip I am beyond happy I went.

There were about 11-13 kids from my school that went on the trip; it was no surprise to me they were all boys. We drove up to Mount Everett in Sheffield, Massachusetts around 8:30 in the morning from school. The thing about this trip, besides the fact that is fun because we're going hiking and camping, is its like a family bonding experience. My school has about 90 kids enrolled in the program. We aren't like a normal school filled with random students; here we are our own sort of family. This trip is more of just a semi-educational physical trip, its time to be away from technology and work together as a group in the middle of the wilderness. There are times we share out here that we cannot have at home because of outside influence from other people or electronics. It almost brings our ACE family even closer together; when you're struggling you rely on someone else to help you out. And you assume the same responsibility for someone else as they do for you.
One of the best things that were the best about the trip was having tent mates. I shared a tent with my good friend Tim, and setup right in front of our tent was two of our other friends. Throughout the night after we setup camp we all sat at the opening of our tents so we could hang out and converse. After a little while though, we ended up building a huge fire and all the kids were sitting around it with the teachers. It turned into a giant story-telling circle where every one was telling jokes and making fun of the teachers. This was the best part of the trip, where everyone came together and started having a good time in the middle of the woods without any technology. It makes me happy to see this type of fun, with out any electricity or anything, and it makes me adore this trip even more as a result.
This trip now means a lot to me, I look forward to it every year now. I had so much fun on this trip that I even made my own trip outside of school with friends. We went in the spring during April vacation last year, only five months after we went in school. We couldn't wait until November to go with the school once again. It was my five friends and one of our older adult friends as a chaperone if you will. We left late, got to the trail around 3:00 after getting lost for a little while. By my own surprise, we made it up the mountain and to the Hemlocks Lientu (basically a cabin) before dark and were able to setup camp and start a fire. Proud of our personal accomplishment of making it up the mountain, we went home with a big smile and even more excited to go with out school again this year.
This trip is so valuable to many people. We have kids that graduated that come back to ACE to go on this trip. It's one of those things you can't forget about, that you just have to come back to. The trips outside of school at A.C.E. are different than other schools; here they aren't made just for fun. They are made here to bring the students together in a way a traditional school can't, and that's what makes these trips so special.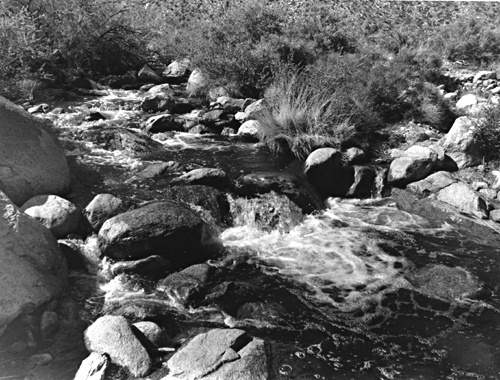 © Becky S., Stony Brook, NY