Lovely Dreams
December 22, 2011
I run around trying to find him. I'm going to miss my bus. I almost don't care about the time, but I realize that since we're not dating anymore I shouldn't waste it. I'm so close to convincing myself to just leave when I see him. He's looking adorable. His hair messed up, his shirt a little tight. I wish he would wear a coat. I run my fingers over the Valentine. I shouldn't have come here. Still I keep walking. He sees me and he smiles a little bit. Finally I'm standing here in front of him and I don't know what to say. I just pull out the card and give it to him. He looks confused. I bet I would to, were I in his shoes.
"It's Christmas. We're not dating. What are you doing?"
"It's the card you gave me. You spent money on it. Maybe you'll have the heart to throw it away. It does me no good to look back on this."
I shove the card back into his hand and close his fingers over it. We stare for a long time. I hear the busses pull out. I have to go. To leave this place. I turn but I feel his fingers on my wrist. He pulls me back. His arms wrap around my waist. He leans in and we kiss. He throws the card behind him and lifts me up as we kiss. Finally he sets me down. I laugh.
"What was that?" I can hardly breathe.
"Perfect." He smiles. I'm smiling so big. Suddenly his face falls. Something's not right. His hand moves to my face.
"Why are you crying?" He wipes the tears out from under my eyes as they fall. I look up; he's talking to himself and me. We're both crying.
"Because we can't ever do that again." The words fall from my mouth like bricks. He's sobbing now. Or maybe I am. It's all a little blurry.
"Why? Why not?" His forehead is against mine. He punches the wall next to him. He puts his hands on my shoulders. I start yelling.
"Is this what you want? Look at us. This is ridiculous!" I put my hands on his face and lift it up. Making him look at me, tears are running down our faces and falling on the pavement.
"Why does it have to be this way?" He kisses me again, and I force myself to pull away.
"Because we can't go back! I'm moving. It's better this way!" He pulls me close again. I can't tell if he's laughing or crying. Maybe both. Who knows?
"Better for who?" He runs his fingers through my hair and holds the back of my head. He's quieter now.
"All invested parties." I mumble. He pulls me tighter.
"I'm not letting you go again." He kisses my cheek and then my lips. I hug him. I hug him so tight, I never want to let go. I never want to make that mistake again.
My eyes open. It's dark. The pillow I'm hugging is hot and soaked with tears. I rub my eyes and wait for sleep to take me back.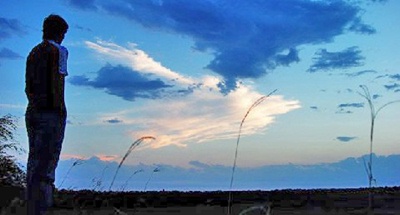 © Stefanie K., Katy, TX