Like Rock and Roll and the Radio
December 29, 2011
Maybe she was not always there when I wanted her to be, maybe she was not the picture perfect role model for a child—or anyone for that matter—and maybe she was just a little too self-absorbed at times. It didn't matter; it never did. I loved her with all of my heart and soul; she was my best friend at the best and worst of times regardless of whether she was very attentive throughout my life. I knew she loved me. We were best friends and yet, at the same time we were also strangers. There is still so much about her life that I'm in the dark about. It took me forever to realize that she had kept me in the dark on purpose; to shield me from all that she despaired. I never once blamed her even though most people in my situation would have. Somehow, I knew that if she had a choice she would have chosen me. That's just the way Anne was.

Her family was her number one priority, forever and always. No matter where she was at the time she never stopped caring or loving despite what some may think. Anne would send me birthday cards, letters, and write poems whenever she was away and unable to be there with me. I never used to question why I never happened to see her on my birthday or any other holiday for that matter; I never questioned why I never got a happy birthday phone call or anything. She would send a card and that was always enough for me. Whenever Anne was able to come and see me and my family she was full of gusto to say the least. She was a spitfire without a doubt. It seemed that Anne never had any reservations as far as sharing her opinions with everyone; she told it like it was regardless of what everyone else wanted to hear.

She was a magical person. She chased away the bed bugs at night whenever she could and would bring in the dawn every morning on our back porch. I would hang onto every word she said because I became so consumed by her. Smoke followed beauty. I learned that from her, she said that its path would trail around those who were beautiful without regard to which way the wind would blow. Whether it goes against any law of physics I still believe those words till this very day; there were magical words. My eyes sparkled and my smile brightened her day, or so she said. Everything happened for a reason; things happened for the good and the bad and there wasn't a damn thing we could do about any of it except brace ourselves. Anne always taught me the language of life. She taught me that there were no such things as "cuss" words. In her mind every "cuss" word was a person, place, or thing. It made sense to me then and it still offers a valid point to this day.

Anne wasn't honest; she was way beyond the concept of honesty. She told the truth like it was going out of style and added extra nouns just for the hell of it. "The truth will set the world on fire." Her motto was that we must always protect our family, no matter what it took. She offered lessons of self-defense and insight into what I was entitled to as a young woman. Never depend on a man and the only thing a woman should stand behind was her education. Make something of myself and make her proud. Anne was always proud of me and my accomplishments. We were best friends and that's what best friends did. She was a sound listener and a counselor in many ways. Her advice was unique to say the least and always accurate. Somehow, Anne always knew what to do and what to say.

I wasn't just a child to her; I was a friend, someone she could count on. I never passed judgment on her because frankly, I didn't think I could. She did a lot of bad things in her lifetime and I know she would probably take some of them back and some of them she would probably leave the same. To me, it never mattered what she did because it never seemed to change who she was. Anne didn't make false promises, not to me. She didn't tell me what I wanted to hear but rather what I needed to hear. Despite the ups and downs one thing remained perfectly clear to me: She loved me with all of her might.

Now every time I see butterflies I can't help but think of her. The resemblance between the two is astounding. She was as graceful, beautiful, and as magical as a butterfly could ever be but she could never seem to stay for too long in one place. Anne Martin was eccentric, honest to a fault, outspoken, opinionated, loving, and the best friend I have ever had. She was a lover, a warrior, a saint, a mother, a daughter, a sister, a recovering alcoholic, a drug addict, my grandmother, and my very best friend.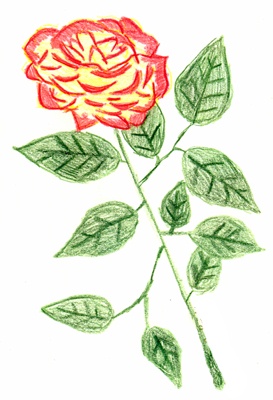 © Kelly Z., Niscayuna, NY