Holding On
November 29, 2011
"Life happens when you're busy making plans." "When life gives you lemons, make lemonade." "If we all did the things we were capable of doing we would literally astound ourselves."

What is most valuable to me? Well, that comes easy, my family. To some people it could be their phone, book, TV, or game system. No brainer mine is family. I have learned that when all hope seems to be lost and it feels like everyone in the world is against me, I know my family will pull through.

I think back… before I was in middle school and before it all happened if I could tell myself one thing it would never to take anyone or anything for granted.

The misfortune … April 16, 2009 – 5:30am. Dad wakes me up early. Confused and half asleep I ask him why. Before he has a chance to answer I put the pillow over my head and cover myself up. He then raises his voice and tells me that I needed to get up because mom had to go to the hospital. I was utterly surprised. I got up and dressed, then went to get my little sister up. When I told her what was going on she started to tear up. We went to look out her window and she really started to cry. My heart ached when I saw the red, blue, and white flashing lights of the paramedic vehicles outside our house. I knew I had to stay strong even though I felt limp. We went out into the front room just to be directed by dad to go sit in the kitchen with him until he was needed. He told us to wait. I didn't want to wait, I wanted answers. I felt so helpless watching all the paramedics go me and out of our house. The worst parts of the whole morning were having to watch all the people take my mom down the stairs and to see her put on the gurney wheeled and stopped in front of my. She looked… so pale, still, and unconscious. One side of her face was droopier than the other. I thought to myself "How could this be the same person who said goodnight to me hours ago?"

I felt like she might never come home. What happened? Why did this happen, and out of all people why to her? I don't understand and I might never. Although I wished this had never happened I wouldn't wish this "fate" on anyone or their family. I felt terrible … Think of this a 5th graded on night going to bed and having both parents say goodnight to her. Now this … the next morning her dad waking her up and saying that mom needed to go to the hospital. I was confused. Mom had a stroke! What does that even mean?

First time … The first time my little sister and I were able to see my mom we jumped at the chance. After I saw her I never wanted to go back. The hospital. The smell- clean and sanitized. The noise – zero to one if any, quiet and dreary. The color- white and cream, bland or plain. The feelings that were going through me- Anger, fright, sadness, and loneliness.

The time when she wasn't home … When mom was at the hospital it seemed so tense at home. I went to school, played soccer, and did swimming for the rest of the year. I felt like I had nobody. My sister was only in 2nd grade so I don't think she really understood the whole picture. But I did. I didn't want to talk to anyone or eat anything. All I wanted was to sit in my room and hide from reality. Although I knew the world would never just go away, I always had my imagination. With all the chaos in the house with mom being gone I got angry sometimes I didn't feel heard. I never like being ignored. I know I talk a lot and sometimes when I have something important to say no one has the time to listen. I felt overpowered. Mom had always been in my life. When she wasn't home I would sit by myself and think only about one thing. Mom. I was worried for her. I knew there was a light at the end of the tunnel. I couldn't always see it but I always knew it was there.

Before … Before mom had a stroke everything seemed simpler. She is now wheelchair bound so going anywhere can be a challenge. There are some things that we can't do now. These come as simple as not being able to go on bike rides with her and my sister. I still can do many things with my family even though my mom's disability makes things harder.

Now … where am I now? I often ask myself that same question. I know for a fact that I'm better than I was. I don't think I will ever be the same. I don't look at anything with the same perspective. "Yesterday is history, Tomorrow is a mystery, and today is a gift that's why they call it the present" My mom is my hero. She is my inspiration. I feel that if she has the strength, will, and courage to get up and persevere life, with all the everyday challenges it gives her… I should too.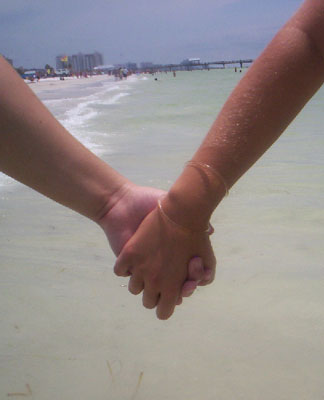 © Belinda H., Palm Harbor, FL