Wall-Width Mirror
November 24, 2011
She wakes up in the afternoon after a long night of too much thinking. Instinctively, she pulls the leg of her pajama shorts further down her large thigh to hide the newest wounds.


She sighs and lifts herself off her bed. Wincing slightly at each step, she heads to the bathroom next to her room. She makes sure to stay quiet so she doesn't draw attention to herself. She opens the door and slips inside, avoiding her reflection in the wall-width mirror--who decides to make mirrors that huge anyway?--who wants to look at herself for the entire length of the wall? She locks the door and crosses her legs when she sits on the floor. Lifting up her shorts, she tears up. Scabbing straight lines and words like ugly and fat cover her right thigh.


His deep, southern rumble breaks into her mind--why do you do this to yourself?


She pushes him from her thoughts quickly and tears off the band-aid and alcohol pad covering the newest cut. She rubs anti-bacterial cream over it, continuously pushing his hurt face, his almond-shaped puppy eyes from her mind.


She stands back up, yanks off the bloody shorts, and stuffs them into the dirty clothes hamper.


She accidentally catches a glimpse of herself in the mirror. Instantly, her jaw drops. You are so hideous, she tells herself after she tears her eyes from the stupid, wall-width mirror.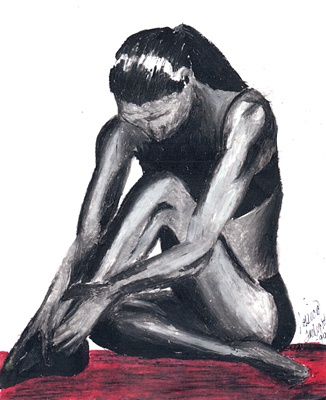 © Jessie Y., Ahwahnee, CA