Character Sketch
November 21, 2011
Victoria is just a 16 year old girl who lives in Texas. Victoria has long, flowing dark brown hair and tan skin with piercing blue eyes. She grew up in a tough household with her parents constantly fighting. Her two older brothers Trav and Kent helped her get through her days. At the age of about 4 she started really liking makeup. She was a strong independent girl at such a young age. Victoria's mother would pretend that she would put makeup on her every morning to make her happy. As the years grew on, her parents only got worse. At the age of 10 her parents split up. She moved in with her step-dad and her mother. Basically forgetting about her father, Her brothers moved out of the house when she was only 13. Victoria was forgotten and left alone most of the time to fend for herself. She spent most of her days practicing makeup on her mannequins by herself. When it came to dinner time she would usually go to the diner that was across the street from her house. The people who worked there were like a family to her, they treated her like a real person; which no one else did. If Victoria ever needed anything she always knew that her friends at the diner were there for her, treating her like a daughter.
When Victoria was 15 she started attending makeup seminars with only the top makeup artists in the country. She would save up her money and travel across the world to these seminars and started meeting new people. The people she met respected her and she felt quite welcome in the makeup industry. As she blew her 16 candles out she only wished to become a makeup artist.
Victoria's wish came true. After she was trying so hard to just get a spot in the real makeup world, she finally got her job in the heart of New York. Victoria later moved to New York to pursue her dream. Her parents gave her the full okay to move away at the age of sixteen.
She started out working for one of her best friends she had met through a seminar. Her name was Olivia. Olivia trained Victoria to her best ability, day and night. She knew that Victoria didn't need much training because she knew every thing, but; it was still mandatory. After she worked for a whole year as Olivia's assistant she realized that she was far to advanced for the job of being an assistant.
Olivia and Victoria discussed this situation over coffee and decided that they would try to find her a new spot in the industry when it was time for new york's fashion week.
Olivia taught Victoria how to really sell someone on your makeup business before they went there. After they trained and trained for months they finally decided that they would go and talk to one of the top makeup artists in the world because Victoria's talents were really just that good. One of the top makeup artists name was John Fresh. He was a very hard man to work for because he expected nothing but the best. He worked with hundreds of superstars on their makeup and has traveled around the world, just like Victoria to peruse his dream to be a makeup artist.
The first day of New York's fashion week was arriving and Victoria was beyond nervous.
She was a very confident girl though and she knew what was best for her. The day of fashion week she walked right up to John and started telling him about what she could do.
He replied laughing and said only but two words. "show me".
He took her into his office and had her work on one of his clients. She did the work that he told her to do. Her hands were shaking for most of the time and her head was spinning. She tried to keep her hand steady and not mess up, she knew she wanted this and she hoped that Mr.Fresh saw that too.
After she finished her job on his client he called her "nothing but magic".
She was surprised at his response, she thought that he would be extremely hard on her.
Her heart raced at knowing that she had a spot at the top after doing her best on only one client.

At the young age of 18 Victoria was one of the world's most famous makeup artists. Victoria's message out to everyone is "Just peruse your dreams".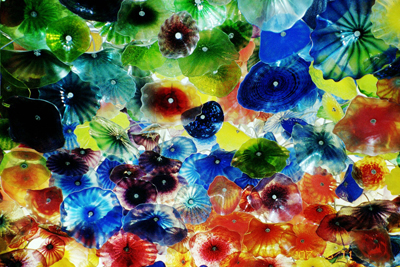 © Shawn P., Las Cruces, NM