As Two Hearts Combine
November 11, 2011
It was an average boring school day when I met that one special person who was soon to be the center of my universe. Hayden was just another boy in one of my classes in a brand new school. That is, until I noticed his dark brown hair, deep, honey brown eyes, and tan kissed skin walking up to me. And that's where the story began.

Any average person is going to look down if a stranger points at their chest. When his finger touched my skin, I looked down with a wondering look on my face. He smiled his gorgeous, one-of-a-kind smile and said "Gotcha!" and I couldn't help but turn bright red. One of the cutest guys I had ever seen just came up and talked to ME! Not my friend, but me. For once! At the time I was extremely shy, so instead of saying something back, I froze. And not as soon as I recovered from my freeze attack, he did it again, and again. I fell for his gullible trick three times in a row! After I regained the ability to speak, we talked for a little bit and exchanged numbers.

We had only been talking for maybe ten days when he asked me to go to the football game with him. So of course I told him I would. When I got to the fields that night I walked to the bleachers to find him. I looked up and saw him sitting with Nathan and Blake and suddenly got really nervous. When I tried walking up the stairs my legs started shaking and I got a bit light headed and all I could imagine was me tripping or making myself look stupid one way or another. I eventually made it safely next to him and sat down. A few minutes later we got up and went walking around with Nathan. We talked to some of their friends and got some food. Then, Nathan said he had to go home. My heart dropped and I instantly got butterflies. I didn't know how to keep a conversation going if it was just me and Hayden. I didn't know what I was going to do. Lucky for me, Hayden took control and grabbed my hand and walked my across the street. After I relaxed a little bit and was comfortable enough to have a normal conversation, he stopped, pulled me near him, and kissed me! My stomach flipped and my heart skipped a beat. It was the most wonderful feeling I've ever felt! Little did I know that, that night and that kiss were both the beginning of a wonderful relationship.

Eight months later everything came to a screeching halt when I moved to Kentucky. It was the hardest thing I've done and it still hurts me to this day. Thankfully, both of our parents allowed him to live with me for a month when we first moved here. In that month we got closer than we had ever been before. We spent every waking moment with each other since it was only a matter of time before we would no longer get to see each other every day. It was going to be the most devastating and challenging part of relationship, but we knew we could make it work if it meant staying with each other. Many memories were made in those short few weeks, between lying in bed watching movies all day to going to the mall to going to Taco Bell at two in the morning. It may not seem like much to anyone else, but it meant the world to me.

We have been apart for over two months now and we are still just as strong as before. The saying "absence makes the heart grow fonder" could not be any more true, and I know that from experience. Overall, when you find that one person you can see yourself spending your life with, you can handle anything. No matter what life throws at you, you can make it for love.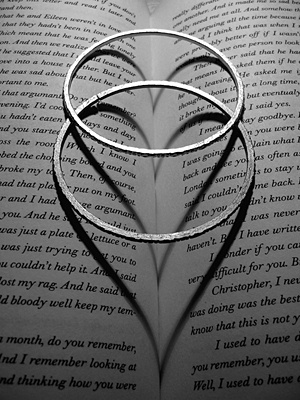 © Julia K., Old Tappan, NJ