My Autobiography
October 13, 2011
I'm sure you don't want to hear me blab on about myself, so ill just give you the short version. Sit back, relax, and enjoy reading.
When hurricane Katrina hit, my family moved to Florida. We didn't know our house was flooded, but we found out on the news. After, my parents started looking for houses. We stayed with my parents friends in the process. They had two kids of their own and we all got along great.
While we were staying there, I had to go to school. I out smarted all the kids there, and I had so many friends. Sadly, a year later, I had to leave them behind and come back to Louisiana. I soon missed the no uniforms, the better school food, and the great friends I had made.
Now I live with my grandma who we just moved in with. My parents are splitting up, so my mom, my two little sisters, and I are staying with her till we find our own house. My mom, sisters, and I use to live with my dad in a little blue house. It was called a "shot gun" house. The house was originally split in two, but the landlord took out the middle wall and made it one. There were two bedrooms and a small back room witch was mine. I had so much stuff in it that I had to start sharing a room with my little sisters.
My little sisters, Payton and Cameron, are manipulative little boogers. They can be the sweetest girls in the world (when the want something) or the most evil girls in the world (when they don't get what they want). I guess that's little sisters for you, what can you do?
My sister Payton wants to be the boss of everything and everyone. She's eleven years old and has just entered middle school and Elender. My other sister, Cameron, wants to be an animal so badly that she acts like one. She is nine and going to C.T Janet. My "daughter" Sandy, is an eleven year old Pomeranian (seventy-seven in human years). She's a tan haired, def, missing her top front teeth, going blind, walks with her head to her side, has grey hair on her back, and hunch backed. Everyone thinks she's ugly, but to me, she's the cutest thing in the world!!! My "little brother" Bandit, is a nine month old Siberian husky. He does tricks, talks to you, and knows how to open the front screen door to get outside. I t think he's part cat because he acts like one. His ice blue eyes are to die for and they go beautifully with his black coat.
That's all I'm going to tell you about my life right now. So thanks for reading and I hope you enjoyed it.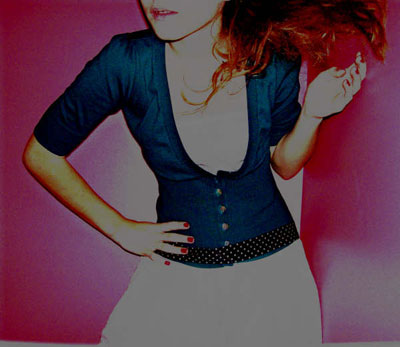 © Jenna V., Hamilton, ON, Canada