Grandmother's Clock
October 12, 2011
Behind a glass door protected on a stand in an old antique cabinet lays a small wooden clock.This little clock is so small and can fit in the palm of my hand and yet can hold more memories than a giant scrapbook.

This isn't any ordinary clock this one is magic, and when I pick it up it feels like all of the memories from my childhood are surrounding me and they are so moving that they are taking all of my oxygen from me.

It is burgundy brown wood with a beautiful soft varnish and little white streaks going down the sides that are part of the wood grain.It stands two feet tall but don't let that fool you. It is smooth with not even one scratch on the outside of it. The top of the clock is like a wave first it goes down then it goes up. It has a smooth clear glass cover that protects the time of day. It's like if the glass breaks then time is going to stop altogether.

When I put the clock up to my ear I feel tears coming down my cheek. It makes a tick tock, tick tock as if it is reminding me how important time really is when you are talking about the precious love of family. Then I start to laugh. Why does it sound so hollow when it is filled with so much love?

I love it! The sweet aroma of metal although is is made out of wood. I sniff harder and harder and smell cleaning supplies which reminds me of the clean freak that my landlord really is.

I remember I was staring intently at the 2 inch clock and my grandmother saw it. When I glanced at her she had a huge smile on her face from cheek to cheek which made me a little scared because it was like her dentures were going to fall right out of her mouth, but they didn't. That makes me laugh every time I think about it knowing that it makes her so happy she is willing to lose one of her body parts for it. I also remember her looking it over and seeing her face when she realized that there was a note that was written by her grandmother telling her how much she loved her and how much she wanted my grandmother to be the best that she could be.

I always wondered what I deserved to get a gift this special. Knowing that my grandmother got it when she was about thirty five about 20 years ago and I don't know how long my great great grandmother had it for, but I wish I did. The amazing thing about it is that my grandmother didn't know that there was a letter in there for her until her grandmother was already dead. She was so lucky. To have something that belonged to her grandmother and telling her how much she truly did care for her.

Because of all the story's and all the memories that it gives, whenever I pick it up I feel my great great grandmother's hand on my shoulder although I never really met her.

I remember when I was younger and my grandmother was telling me a bunch of story's I would always think to my self that someday the clock will be mine. I would think that I was going to do anything in my power to make sure that the clock doesn't have even one scratch on it, and that I was going to keep it forever. Now here I am ready to take on the responsibility that I need in order to keep the clock. I'm ready for the love that it will give me, the precious time that it will tell, and the passion that it will bring forth unto me.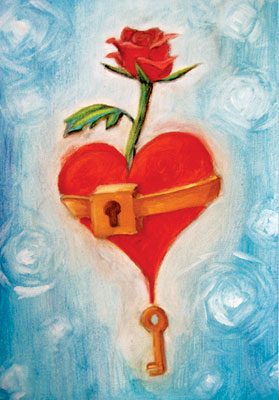 © Louisa L., Pleasanton, CA