The Time I Fell Off The Roof
October 10, 2011
It was a Saturday after a long summer hail storm. The sun was shining bright. The hail storm put holes in the red tin roof of our house. So my step dad decides to go up there and fix it.
"Jordan I am going to go up on the roof and fix the holes are you coming up to help me fix it?" he says
"Sure what do I got to do?" I replied
"Just patch a few holes nothing to big but your going to have to be careful"
I go into my room and get ready I put on long pants and a shirt because I didn't want to get cut. When I got done putting my cloths on my step dad was already outside waiting on me.
My step dad says "go get the ladder so we can get up there."
I replied "ok where is it at?"
"Down at the dog lot next to the door when you walk in to the building" he says
As I was walking I was enjoying the day just looking around at the trees I notice a blue jay flying out of the tree to my left. When I glanced to my right I spotted my little sister playing with her dog a black lab named Shasta .she is a twelve year old big baby that I have had since the day I was born.
I finally got to the dog lot and the build was to the left of that where we store all are tools and stuff to work on the house. It also were we keep the keys to the dog cages. I grabbed the ladder witch was an old rusted one that we had for along time. When I was about half way back to the house I heard a foot step noise but it knew it wasn't my sister because she was over near the woods playing with Shasta. I walked slowly toward the unknown noise and I peeked around the corner then out of nowhere my neighbor's dog jumped on me and knocked me back on me butt. He was a big over weight German Shepard named Sam (by far the best dog I have ever met). He jumped on me and started licking my face I had use all my strength to get him off of me. He finally got off me after about five minutes he just walked up to my sister and Shasta.
I finally got back to the house with h ladder. My step dad sat on the edge of the porch. We put the ladder up against the house. My step dad went up first. He made it to the top with ease. I stepped on the first step of the ladder and it stayed in place so it gave me a little more confidence so I stepped and then all that confidence went away when the ladder jolted out of no were but my step dad caught the ladder from the top. When I finally got to the top my mind was racing from almost falling off. My hands were shaking and I was scared at first ill I took a couple steps and I calmed down. I sat down and started putting some putty stuff over one of the holes and
I thought "this isn't so bad"
As soon as I thought that my step dad says "go over to the edge and grab that other can of putty:"
"Why is it all the way at the edge anyway?"
"because I set it there don't ask a bunch of questions and just go and get it!"
So I walked over to the edge and I bent down to grab the can I heared a dog bark and a scream and it startled me and I lost my balance and I fell over the side of the house and landed on my ribs and my hand. I knew as soon as I hit the ground and heared a crush noise. I knew my hand was broken but I rolled over and there was blood everywhere it turns out I broke 6 of my ribs and dislocated my shoulder. To this day I still have problems lifting stuff with my right arm because my shoulder ends up getting dislocated. That is when I started being afraid of heights. I learned that I need to stay off the roof of the house.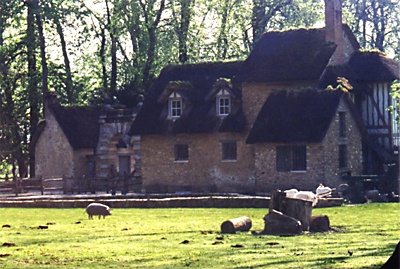 © Lindsey S., Duxbury, MA