Forward and Back
October 4, 2011
As we sped down the highway, I was so excited to get to the campground. My friend and I talked the whole way about what we planned to do when we got there. The campsite was in Lodi, so we had quite a way to drive. As we passed through every small town, thoughts of roasting gooey marshmallows, swimming in the crystal clear lake, and seeing our cabin raced through my mind. I was more than excited because I had never really gone camping with a friend before. Everyone called it an, "only girl camping trip", because everyone there was my mom, my friend, her little sister, and their mom. I remember finally arriving in Lodi, and knowing that our final destination was just around the corner.

It seemed like eternity as we forever drove down roads with little antique shops, candy stores, and hair salons. On every road I watched out the window as the overgrown green branches seemed to reach out to me like a welcoming handshake to the town.

I was filled with anxiety as we pulled onto the long bumpy, gravel road that led to the campsite. I knew we were finally there when I finally saw the sign that said, "Welcome to Crystal Lake." I remember my friend and I turning to each other and smiling.

Finally after we got registered, we drove to our cabin. I was a little disappointed when we pulled up and saw that the cabin was so tiny! It reminded me of the doll houses I used to want when I was little. I had no clue of how the cabin could possibly fit five people inside. Although it was small, the best part was that my friend and I got the loft. I remember running in and instantly started climbing the ladder that led to the loft. I felt as if I towered over everyone as I looked down over the very edge of the loft. We all explored our puny, little cabin in excitement, except for one room...........the nailed-shut door to the bathroom!!!! Long story.

After our tiny, one room tour, we all decided to go swimming. I was overjoyed to see that the lake had everything a kid would want in a lake! To me it seemed like a little amusement park but in tons of shimmering water. How much better could that possibly get?! We swam for hours on end until we shriveled up like prunes.

After we dried in the scorching sun we drove back to the cabin and spent the rest of the night roasting marshmallows. As the cozy fire flickered in front of me I looked up and gazed at the moonlight beaming through every little space in the trees surrounding me. Finally after our tiredness finally hit us, we slumped to bed.

Although we stayed only a few days, we had loads of fun! Because I loved being at Crystal Lake, I dreaded the morning that we had to leave. I felt sad as I slowly hauled everything out of our cabin and stuffed our bags into the trunk. After I slammed the door and buckled in for the ride, I wished we could go back and stay however long we wanted. As I glanced back down the road as we drove away, from our woodsy, fall-smelling escape, I hoped that one day, I would return to Crystal Lake.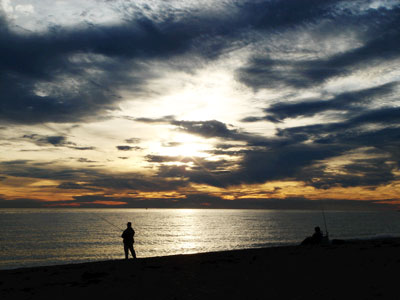 © Sarah C., Hillsdale, NJ