Boogie Boarding
September 28, 2011
It was a hot summer day. Me and my family where on the North Carolina beach boogie boarding on the Smooth gentle Atlantic waters, so I thought Turns out the oceans a little more harsh than it sound. This story of my epic fail and a fight with the ocean

I dashed over to our spot to grab my majestic board. It was place not to far from the water but not to close to dunes. Our little set up was right in the middle of the beach where it was not very crowed but not to deserted. I started to run to our perfect spot to grab my boogie board. My board which was dark blue and had a mean looking shark on it. As I ran the fine rich sand flies up in my trail.The sand feels warm like sticking your hand in a bowl of smooth silky flour on my bear feet. I grab my board and start heading down to the water. The sand makes it hard to run it colapses with every step i take and makes it harder to lift my feet back up.

I reach the water at last and as I enter the great Atlantic water it feel rejuvenated as the cool water cools my bare feet from after the tuff running with the hot smooth sand. You can hear the piter pater of water I enter the white foamy water.I see little menow like creatures. The fish swim around my feat as i stand perfectly still and the nibble on my feet it tickles. I Gently attach the long sturdy black string that attaches me to the board. I take my steps afraid of what might lie beneath the gloomy water of the abise, sacred of running into a shark or sting ray,but over my fear of the smaller fish. The water is ruff and full of sharp shells here where the all the shells end up at. Gradually i get deep untill the water up to my hip..

Once i got to a point a small but powerful current pulled me to the left while i was still trying to fight the smaller waves. I eventually reach breaking point where some of the smaller waves crash. The area is full of white water and loose sand. I power through the ruff waves one after another they crash into me like bumper boats in a amusement park. Every step I take i'm knocked back two.

I finally reach the clear deep water, the water level is now up to my chest. Every now again a huge wave comes over me. The wave knocks me over as i try to ruff house my way through, buy It topples me and i get a big mouth full of salt water. It even gets in my nose and clears my nose. When i came up i can see a couple dead jellyfish floating on the water. I ease my way past the lifeless jelly fish afraid of being sting by the mysterious creature.

I finally reach out where the big waves crash and its up to my neck. I try to get my footing right in the soft sand. Its hard because of the silk like sand. I wait for the perfect wave patiently as waves pass me by. The restless waves ram into me nocking my footing out of place as i'm struggling i can see the wave i've been waiting for arrives and i'm ready.

I tensed my legs and arms waiting for it to get closer i was in the perfect position. It began to suck me in and then I pushed with all my might. I exploited in a huge burst of energy as I begin to speed up the front of my board begins to tip and my momentum pulls me forward and I tip over the board nails me in the stomach and i flipped over and hit my head on the sandy ocean floor. I loose my board but luckily a generous person got my board board for me. I struggled back in I could feel the burn of the stinging ocean salt and my eyes watered with salt.

Once i reached the shore I ran over to my dad to tell him what happened. He laugh at me and told my not to use my head literally next time. I learned never to mess with the ocean again because its will always win.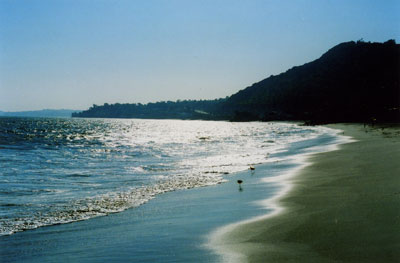 © Adam L., Washington, DC