The Blanket
September 15, 2011
The portrait of a person, created with oil paints and careful brush strokes. The solemn eyes staring out into the unknown. To help remember the forgotten face and physical features of a past life. Yet my portrait of a lost memory is made of yarn. It is painted with silver needles and experienced hands. A phantasmagory painting of my great grandmother, crocheted into the blanket given to me when I was a baby. It traveled with me everywhere, held in my chubby hands and tripped over because it dragged in front of my feet. It always had a spot on my bed, snuggled against my face. I thought of it as a shield from the supposed monsters under my bed.

The blanket was like a timeline, showing all of my life. From my first taste of peas to my messy first birthday party. The stains told the story of my hot-headed temper as well. Each hole was a scar, a fading story of getting it caught on a fence or attacked by a dog. Yet the strongest memory was not a hole or a stain. It was not a visible piece on the blanket, it was hidden among the threads, unseen by the human eye. I think of it now as something like a spell, a strange knowledge or image of what my great-grandmother looked like. Her smell was something distinctive that traveled throughout my mind even to this day. She smelled of cigarette smoke and oranges and somehow this comforted me and it helped me remember her eyes and face. It was also my shield against the monsters in my closet and the scary cats that roamed outside. It warded off my imaginary fears causing them to slink back into the recesses of my mind.

I remember the night well, and as a seven year old who still believed in the Bogey-Man, it was terrifying. I recall sitting up in my bed, the lady-bug covers tangled up around me. The shadows were shifting eerily and I instinctively reached for my security. As I pulled it over my head, I noticed something that frightened me. The smoky and succulent smell of my blanket that I had grown to love was beginning to fade. The spell that had protected me from the beasts that went bump in the night flickered like a dying candle and went out, showering me in a true darkness I had never truly experienced. When my mind realized its imprisonment had disappeared, it went rampant and I was surrounded by cyclops and bearded dragons that breathed flames of a dark blue. I cowered under my covers that night, unsure of how to react to the realistic nightmare. With day came my imagination's monsters leave and walking out of the grave I realized something that no young child should know. My theories were proven right over a bowl of Cheerios as my mother told me of my great-grandmother's death. I had known this since my blanket had 'died'. That night was the last night I slept with my blanket, hoping that maybe it would return to its job of protecting me from my fears. As I grew older I began to become capable of protecting myself from the monsters until they disappeared. The blanket, being of no use to me was crammed into drawers and plastic bins, forgotten as the years went by.

Today I found my blanket, hidden among the bed-spreads in my wardrobe. The stain have faded and the colors as well. The holes have grown larger too. Fingering the rough texture I get quick glimpses of her features in the dying magic of the threads. I add the missing eyes and smile to the dark silhouette in my mind. Sitting here I wonder if with careful use and time I can keep the fading memory alive and add to its threads.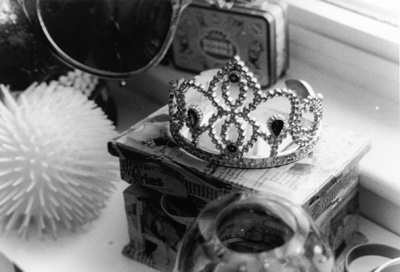 © Bayta R., Beverly, MA