Choosing Family
September 12, 2011
I was three years old when I met him.

Through hazy veils of time long past there stands a large man, with dark brown hair and a beard to match. Earrings, never seen before on a man, punctuated the length of his ear, made ruddy from excitement and the cold Minnesota chill. Bright blue eyes and a large grin stood out from a nondescript face, made him more than just another visitor from the South, just another tourist, just another man.

He had hands just right for cradling mine.

My mother introduced us, hesitant in her doing so, not sure what I should call him. Jeff, they decided. They didn't want to confuse me.

I've fallen victim to the cruel villain that is time, the crux of decaying memories. Yet still, I remember playing with Legos, the small blocks from opposite ends of the table, different colors, from different sets, slotting together, like they'd always belonged right there, clutching the other. I remember a Ferris wheel; remember bright, blurring lights and newfound vertigo and above all the warm sanctuary of his arm, wrapped around my tiny body.

Now, I call him Dad on the phone and he announces to his friends that, "This is my daughter, Maria."

Through my mother I learned the value of books, thrift store copies clutched in small hands, stacked haphazardly in alphabetical order by author, but through my dad I learned the value of listening, words spilling out of lips and spinning into stories, painting the picture of when he rode dinosaurs to school, twenty miles, uphill both ways. Mama taught me how to look for the beauty in everyone and everything, but Dad showed me how to let people know that they were beautiful, because sometimes they don't know.

I've been comforted and challenged and congratulated and chastised in the years since he came into my life. The hours I've spent debating politics or the merits of SLR photography I wouldn't ever take back; our conversations have made me, if not convinced that he's right, a more open-minded and inquisitive person. Knowing he's been there for me, not out of obligation but out of choice and out of love, inspires me and infuses every action I do with a relentless sort of energy and a passionate determination.

Life is full of choices, minute decisions that change the course of history. We shape ourselves and our lives out of these choices, and have no one but ourselves to blame or credit for the consequences of our actions. I like to think that at the age of three, I made the right decision to let a strange, bearded man into my life.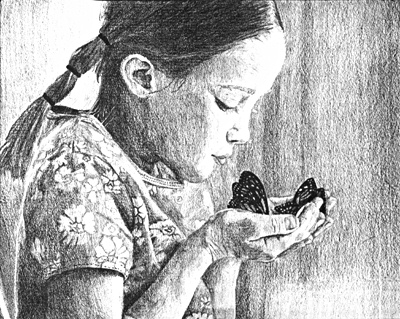 © Alina L., Holland Patent, NY