My Mountain Top
September 5, 2011
I've always struggled in school. It's never been easy, from kindergarten all the way up until now. I still have trouble, but this is just my life. Flip back to when I was six, the shy little girl who was scared of the world. I wanted my mom right by my side every step of the way, but of course I had to be on my own in kindergarten. I was always in that corner, quiet, scared, and overwhelmed. I was placed in a speech class, because I was having problems with pronunciation. They tested me, but it was too early to test in anything else. I stayed in the speech class, and worked hard at trying to say words. The rest of kindergarten wasn't easy either. There were bullies who attacked me with words–one strong leader, followed by his two side kicks. Some people think that it was too long ago–it doesn't matter. I was six. The truth? It does matter. I remember the bullies vividly. The sneers, the pointing of fingers… and I was just trying to watch everyone else playing, sitting on that little bench of mine. The bullies probably attacked me with hurtful words the majority of my days there.

Well, until a hero stepped in front of me, blocking me from the enemies. This boy's name was Justin. I remember the first day he defended me. I was sitting down, the boys teasing me, and Justin saw me, stepped in, and started to yell at them. Words along the lines of, "back off" and "leave her alone" come to mind. The bullies started backing off after that. Justin and I became best friends after that, hanging around our little playground. Along with him I made other friends, who have always stayed in my memories. Even though I was that quiet scared girl, I was able to make some amazing friendships, and the world at last seemed good. Then 1st grade happened.

This was the year that my difficulties in academics were exposed. I couldn't read at all, couldn't do anything. Letters weren't letters–they were cool little designs on a piece of paper with no meaning to them. They even danced across the pages sometimes, and then I couldn't even make out the designs. Math? It was like a nightmare had come true. Of course, though, once I went into RSP that year, we focused more on reading. At 7 years old, I was still trying to figure out how to read "The Cat Sat on the Mat." Other similar sentences were equally challenging.

It was a rough start, and a rough road. I didn't seem to get any of it. "OK, Fallon, let's go over it again," they said. Frustrations weren't that intense, as I was so young I didn't quite understand why I had to read these symbols that meant nothing. What was the point, right? They couldn't be important, could they? However, my teachers taught me that the symbols were words that meant the whole world and everything in between. Soon enough I was reading page by page, by page, one word at a time. I did my best, curious to know what the symbols, which were slowly becoming letters, meant. Math was no different.

As time passed, I soon learned how to read along with my other classmates. That didn't mean I liked it though. But I could do it. I didn't just try. I worked hard, every day. Math was still a work in progress, and that's a whole other story all together. But for now, I can tell you that eventually, by the end of second grade, I was reading little chapter books, when at the start I hadn't been able to read even a sentence. Third grade came, enhancing my hatred for writing. Wait, what? Hatred? Yes, I did once hate writing. I wasn't good at it. It was just a lot of work with little success. By then I was up to par in reading though, and I was at least reading a lot. Ok, I didn't love that either, but I still did it. I was still behind my other classmates, because everything took a lot longer for me. I was the last one to finish the class work, the last one to finish tests, which I still am most of the time.

But then, the summer going into 4th grade came along, changing some of my perspectives. Now, one of my great teachers always said, "You may not get it the first time, but before you know it you're going to wake up one day, and something is going to snap in your brain, and you're going to get it." Well, that summer I got the snap. My summer school teacher made writing and essays so fun, that I began to like it. I improved. I started to like how, as my pencil moved across the page, beautiful words came out. I also discovered a book series, those choose your own adventure books. And gosh, I got the reading snap too. I started to love reading and writing, and set a goal to learn as much as I could so I could do these amazing things. I think I owe a lot to that summer school teacher, big time.

I guess I am forgetting one important detail. Math. I know there are a number of people that have always struggled in math. I am one of them. Problem solving was the worst. Like reading, I had to have a teacher read me the problem, explain what I had to do, and go through the steps with me, and hope that I got it. At the beginning, I usually didn't. My times tables? I couldn't seem to memorize them. But as I put them to song, it became easier. Addition and subtraction? Gradually I began to understand the rules. It wasn't until 4th grade that my RSP teacher really dug those equations into my head in hopes I could figure out an answer. By then I was 9, and frustrations, and well, tears began to expose themselves. I was put in a tutoring class at the beginning of fifth, and did that for about a year. This helped my skills a lot, for there were prizes after every couple of weeks, if I did well. This bumped up goals, and I was doing better than ever before. Can't say I was too ready for 6th grade though.

Why couldn't I get it? Why could everyone else understand it, but I couldn't? The only thing I did right was not give up. If they could get it, I deserved to get it too. By now I was reading and writing more, so that wasn't a problem. I focused more on my math. Working hard, working everyday, hoping I'd get that snap. Fourth grade came and went, and so did 5th grade. I was making improvements, but not enough for me to be able to get problems right entirely. I made silly mistakes too. I've not conquered those, even now. Sixth grade came, and RSP got very subjective. I only worked on math. I was reading every day, and devouring book by book. Math was still giving me trouble.

With help from a wonderful teacher and my RSP teacher, I started to improve even more. Started to understand it, started to get better. By now I understood why I needed to get math; I had a goal. Every day I would just go into RSP and work on my math homework. Just…working. No distractions, just me facing math head on. Fortunately, my opponent was weak. I started to get better and better. Seventh grade came. This year was very good indeed. I was reading more than ever, and my writing had improved some. Math was still difficult, but I had a better understanding of it.

My favorite accomplishment that I always remind myself of when I am going through a hard time, has to do with when I got into the elective class of Architecture. When I first walked in that room, it was like learning to read all over again. I had no idea how to draw 3 dimensional shapes, or how to draw a front side of a house. It was foreign, and completely overwhelmed me. I didn't get it. I asked questions every single day, some silly, some confusing. For twelve weeks, I worked hard to understand the art of drafting. The T.A was starting to even look at me pretty oddly. By the 13th week, I got the snap. I understood it. I turned out to be one of the best in the class. Success! Yes. Overall, 7th grade was pretty much a good year. Even though I had a difficult time at the end of that year, I managed to get out of RSP all together, after 7 years of very hard work. I had reached one mountaintop, finally. That last semester I was even able to get into a class I had never gotten to do because of RSP – science. This of course unlocked another challenge, but by then I was ready. It was pretty easy.
Eighth grade–the year without RSP hovering over my shoulder. Considering everything, I did very well. And hey, I got at least a B, maybe A- in math. I was certainly getting an A in English. I was reading every day by then, as much as possible. I was writing even more, too, but not as often as reading. By the end of 8th grade, I earned a good grade in math, and I won the English award, and had part of my poem read aloud at the graduation ceremony. Poetry came into my life.

My high school years, so far, have not been easy. None of my 11 years of school have gone by easy. Nothing is. I still work hard. I still never give up. I have to keep going. A lot of times, I ask myself, is it even worth it to work as hard as I have to? Others around me act like academics are as easy as…well, breathing. To me, at times, it's like trying to run against the wind. The problem was always that I had nothing where I could say that I was really good at "this." With the exception of English, I struggle. But what does that show? There are always these talks of the math nerds, or the jocks. I can't say that I am athletic, I have been struggling in that area forever. Running just kills me, and I'm not a great catcher. I am certainly not a math geek. Where do I fit it?

I seem to have answered that question. Writing. Poetry. These are areas where I fit in, to where I can say proudly and confidently, "I'm a writer." Poetry is my favorite of all the styles or writing, because it comes almost naturally, believe it or not. My best poems are written in less than five minutes. Ok, I sit there and stare at the blank page for like 20 minutes before writing, but still. Poetry is art, it's expressive, it gets your feelings and ideas out, and it offers instant success. I like feeling that I can finish something, just like finishing a book. It's a wonderful experience. There is always that question of, why do you write? I always answer with, "it's my therapy." While that is true, I do leave one detail out. It is something to fall back on. When I am failing at everything else, I still have writing. I can still say, "I am good at this," and "I don't need any help with this." Working hard has gotten me places, and without hard work, I would have never found writing. I write as much as I can, and when I'm not writing, I am reading. It's my love, without any strings attached. I have published two poetry books so far, and with hard work and persistence, and never giving up, I have no doubt that I can achieve more. You can too, for with a fighting determination, it's as easy as PI.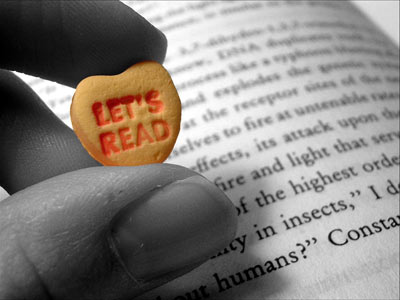 © Amy D., Troy, OH