Summer Friendship
August 28, 2011
The first time we met, it was the first day of school, sixth grade. It was also my first day at that school, but you had been there all your life. You opened up to me and let me know you. We always found ourselves sitting by each other, whether the teacher moved us or not. During the year we became closer and closer, hanging out every day at recess and telling each other all our secrets. Some of the other girls in class would get mad because for reading there were two groups. There was the group who had to read on their own and do all the work depending on each other, it was only a few of us. Then there was the group that the teacher would go read with and guide them on every question. It made us feel good inside and we would always say that – feeling like you're one of the smartest in the class. OH MY GOD, the times when we would get fussed at together, and instead of doing our work we would put our heads down and be mad until we were ready to do our work again. Of course, after making that decision we had to move our clip down a letter grade. We loved when the teacher would let us grade the papers or let us stay in during recess to rearrange the desk. That went on the whole school year, sort of like a routine. Finally, it was the end of the year and everybody discussed what they were wearing for the sixth grade formal and guessing what award we would get.

The summer comes and we go through it without talking to each other even once.

After sixth comes seventh, we were in honors together so we had a few classes together. But then our school signed on to this school program, LA GEAR UP. It provided dance elective and chorus elective classes for the seventh graders. We both took the dance elective class and then we had more classes together after that. We went on through the year then something tragic happened the summer of that school year.

The summer of seventh grade school year a dear friend had passed away, Kaysha. I ended up sleeping to your house that whole summer because you were scared because she had been everywhere in your house. When you went to pee I was right there with you, when you went take a bath I was in the bathroom and you had the curtains closed. To get a cup of water you dragged me along with you. As it got closer to school time, we went school shopping together and we laid down in the dark at night and would discuss what we would wear on the first day of school and on the day of orientation and how we would style our hair. That whole summer we wondered why it had to be our friend of all people. After that we came to the conclusion that our friend's death should only pull us closer and that we should never forget about each other.

School starts eighth grade year and we have no classes together. We had no recess, so we couldn't spend time with each other and I barely ever saw you in the morning. Though we didn't see each other much at school I always wondered why we broke our promise, why we never texted each other after school. We ended up hanging out with different groups of people and we grew apart. Towards the end of the year your twin sister had got burned and I was the first to know. I came over the morning it happened but your grandmother said maybe another time. After that I was at your house another summer. I helped you take care of your sister and the young ones while your mom was at work. Now two incidents has happened and now we made it so important, much like mandatory, that we cant lose eachother so we need to make sure we stay close cause we cant bare another heart breaking tragedy.

We were finally to high school, the freshmans, fresh meat as the elder grades called us. Again that whole school year we didn't see each other much or had classes together. Nothing happened that school year but we both tried out for the dance team and both made it. Your first year and my second year. To help you improve I ended up at your house for the third summer in a row. It was then said that your house was my beach house for the summer.

Now it's our tenth grade year and we're on the dance team together. We're both dancers. Just last week we had our first football game together and honestly, I enjoyed every last minute of it. Dancing in the stands everytime the band plays, it never gets old.

Dear bestfriend I love you, and just know being away from eachother is not an option, and no one has the kind of friendship and love we have.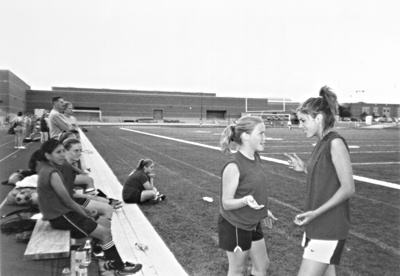 © Katlyn B., Highland Village, TX