Back to Old Planetarium
August 28, 2011
Twenty days ago, I was have my holiday in another apartment in Beijing with my grandma and my cousin. Some areas in Beijing carries my memories of my childhood, one of them is Beijing planetarium.
There are two planetariums in Beijing. One is old, which was built in 1957; and the other is new one with green glass curtain wall, which was built in 2005 behind the old one. Of course, new one has more splendid purface and visual effection. However, as the feeling, I am more interested in the old one. Because I have been there for 30 times since 1999. In my heart, it was a place for pilgrimage. So that day, I took my cousin there.
The old planetarium had been refleshed: The floor and the wall had been painted in new colors, and the exhibition hall had filled with modern facilities. The dome movie theatre was most surprising: The wooden seats were all taken place by smooth and comfortable chairs and even sofas; the Zeiss screening magine was intead of previous dumbbell-shaped sreening intrument. But one thing was not changed: The Foucault pendulum in central hall and the souvenir shop.
I told my cousin, "When I was at your age, I often went here."
Before watching movie, I stepped into the souvenir shop. Series of stuff, from telescope to books on universe, were sold there. However, when I was a kid, there were only books and video VCD (There was no DVD then). Now, most of my books about astronomy were bought from the shop. And the books sold there were almost written by USA scientists, and videos were produced by discovery or U.S. National Geographic Society--It was a window for me to broaden my views. I firstly knew how advanced science looked like. You can imagine how excited as a small kid. What's more, deep in my memory, there was a friendly old shop assistant often doing me a favor. Because I frequently visited the planetarium, the old man had been familiar with my parents and me then. When he heard that I was interested in astronomy at the age of 4 or 5, he was amazed and said that the kids who were interested in cosmos could be pretty good in school. And when my cousin and I walked into the shop again, the new shop assistant told us that he had retired for many years.
I sit on the chairs in the central hall after the movie and appreciate the views of the hall. It was not meaningful for me how splendid was the new planetarium now; I was only long to see the old hall again : The marbel walls and floor, the wooden hard chairs and the dembbel-shaped screen instrument in the dome theatre, an old shop assistant welcomed me in the souvenir shop, and a little boy running through the central hall, staring at the wonderful Foucault pendulum.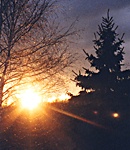 © Christy S., Germantown, NY