In a Sea of Darkness
August 17, 2011
Silence sweeps through the darkness, ringing in my ears and tempting me to bring the ringing to an end. I hide under my blanket, but the eerie silence finds me. I stay hidden from whatever else looms in this dark room. And the silence grows. But the only way is to speak, to make a sound, to expose myself. For when I speak, I give away my location to the creatures lurking in the darkness. I stare at the four walls now blanketed in a foreboding darkness, calling out to me, drawing me out. And the silence rings again. This time, it's more maddening. They've learned. They know. And now they're drawing me out.

How I wish I could fall into a sleep, for I know that then I shall conquer the darkness. But I can't. I hear the sound of trickling water, and whistling. Now I know the true meaning of ignorance is bliss: My brother told me a Chinese superstition that whistling at night summons ghosts to you. But who's whistling? It certainly isn't me, though there's no one else in the room. My brother? No. He's fallen asleep, a thousand miles away from me. And if he were here, he would protect me. Yes, he would protect me.

Then I remember. He replied to my email and told me how great his life is now. I can't badger him with my frightened thoughts and timid eyes. And he told me he prays for me each time he places his head down on his pillow. I know I'm safe, for now I have something that nothing in existence has enough power to destroy: my brother's love and faith in me. No matter what lies between my blanket and me, I will never fear it. I take my blanket off my face. I bravely walk alone in darkness, against the unknown forces of fear and deceit, and move the curtains away from the window. A stream of ivory light from a full moon shines through. I smile, for my brother, thousands of miles away, is out there staring at the same thing I am.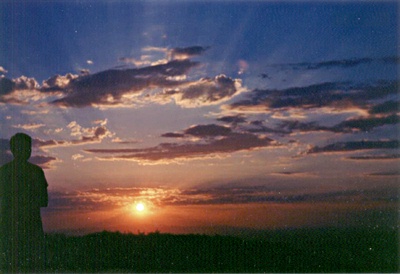 © Jovee B., Dededo, Guam