Muthuswami and His Cyclerickshaw
July 26, 2011
There are times when you feel yourself as a stranger in your own land. That was how I felt standing near the old lighthouse almost a decade later.
The childhood images of my hometown that I held deep within my heart were now just a distant memory, for every faces that I met were strange and everything that I came across were unknown. The countless buildings that decorated the roadsides were new, the roads that coiled the street confused me and even the Gujarati shop from where we used to buy stationeries didn't have a trace of it left.
My quest for old memories thus ended upon a pile of garbage just outside the Laver Mansion. There it was, amidst a bundle of wrecks, Muthuswami's cyclerickshaw lied down to the earth. The cycle had been broken into pieces, its tyres were lifeless, the seats were missing and what remained were a few bent rods covered by creepers. It was nothing but the fossil remains of a forgotten luxury.
As soon as I hear the honking of the horns, I would sprint to the street eagerly awaiting Muthuswami and his cyclerickshaw, the peculiar movement of his shoulders to either sides as he pedaled and gushed like a storm and landed in front of our gates.
It was a sight worth seeing. As a die-hard fan of Rajanikanth, the famous Tamil movie actor, Muthuswami decorated the rickshaw with the posters of his favourite hero apart from other coloured ribbons that was tied to it. Altogether, it looked as if it had come out of a circus tent.
Muthuswami had a face that no one dared to look for a second time. His long brownish hair and goat's eye were petrifying.(He lost his left eye in his childhood and the doctor's fixed a goat's eye instead.) Though I was scared of him at first, I was carried away by his friendly approach. He used to sing songs from his hero's movie out loud as he pedaled through the streets.
During my childhood, cycle rickshaws were a common mode of transport even though it was limited to a few. Most of these cycle rickshaws were used to pick and drop children to and fro from school. But it was Muthuswami's cyclerickshaw that was the most sought after. It had the the status of an iconic figure in Tangasseri. Apart from taking children to school, Muthuswami transported small scale goods, gave rides to the locals, took the tourists round the street and was an excellent guide too. Many people went for Sunday mass in his cyclerickshaw, thus it was a part of every folks in Tangasseri.
Nobody knew much about Muthuswami and his cyclerickshaw. Apart from the fact that the was a Tamilian, when or how he came to Tangasseri, where he lived and with whom he lived were quite a mystery. People used to say that he lived in the cycle rickshaw itself, cooked his own food and slept in it. Muthuswami had to face challenges as technology advanced. Nowthat more auto rickshaws and jeeps started ruling the roads, he had to survive the threat. Yet he managed because he was still in need for the residents.
Muthuswami was a tale teller too. Though many of his stories were unbelievable, he had a charm in narrating his life experiences. He was born and brought up in Gudiyattom, a small village in Tamil Nadu. His parents were mine labourers but young Muthuswami migrated to the glossy streets of Mumbai in search of better job. Thus he came across a British couple for whom he worked as a rickshaw puller in their typical twentieth century British cyclerickshaw which he later inherited. Muthuswami thereby became a professional rickshaw puller in the early 1964s. He travelled extensively around India riding in the streets of Mysore, Calcutta, Rajasthan and many other places carrying people from various walks of life. Sometimes, he would run out of words unable to expresss his pride in giving a ride to the famous evergreen singer Mohammed Rafi.
But now, Muthuswami and his cyclerickshaw has disappeared just as he came. Where has he gone? What happened to him? Nobody knows, it's again a mystery!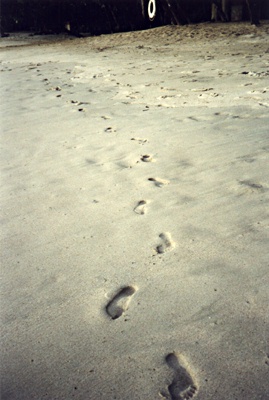 © April W., Rogersville, MO