Broken Windows, Broken Worlds
July 14, 2011
How are you?
Holding up.

They treating you okay?
It's prison. What do you think?

I didn't intend to fall in love with a convict. I'm not sure I even succeeded at that much. But here we are, together. Well, his cell is in Sarasota while our home is in Hallandale, but those arrangements aren't permanent.
When it started, it wasn't about love. Hell, it wasn't even about sex. I just wanted some f***ing weed and a break from the other asshole, you know?

?????

"Ayyy! Jessica's here and she's got a bottle!" Liz shouted as I snaked my way into the house. The odor of miscellaneous smokes clung to the pale orange carpet and slimed down the worn leather seats of the couch.
"Sup!" I passed the bottle to Liz, who struggled to accept it while trapped in the cage of Rob's gangly-ass arms. He'd started working out recently and was buffing up, but at 6'4 he still had quite a frame to fill. With some difficulty, I made my way around the living room to the kitchen and fixed myself a drink. I wrinkled my nose. The place looked like it hadn't been cleaned since Bryce was young enough to have his mom do it. I tugged the black elastic out of my hair and finger-combed the day's worries away.
"Jess baby! Why you hidin'? C'mon!"
I turned as if I actually needed to look to recognize that voice, which sounded something like an English-speaking garbage disposal. My shoulders tightened and I took a step back, bracing myself against the counter.
"Hey, Bryce."
His thick hands wound around my slim waist, fingers interlocking at my lower back and drawing me toward him. He jutted his head forward (his idea of a romantic lean-in) and I arched my head as far back as my body would allow, accidentally crushing his hands beneath the counter as I did.
"Ow! What's your deal?" He whipped his fingers away and inspected the single trickle of blood. I swallowed a well-warranted smirk. I'd pointed out the loose nails under the counter a thousand times.
"Bryce, can we deal with this later?" I asked, pressing a hand to my forehead.
"Deal with what? What the f***!" Bryce's bloodshot blue eyes widened and his eyebrows flattened. A whoop rang out from the next room, and then: "TOUCHDOOOOWN!"
"Bryce." In my mind, I'd said it coolly. But in reality I felt like a mouse. A mouse that had willingly nestled itself in a python's fatal coils. "Look, I just…I had a long day at work and I need some space. Relax."
"Where do you get off tellin' me to relax, huh?" He jerked away and strode around the kitchen, locking his fingers behind his neck. "Babe, look. We don't got a problem."
"Duuuude." Rob said as he stumbled in, bee lining for the fridge. The tension in the room must have created a tangible entity, because the moment he passed between us, he looked up, suddenly sobered.
Bryce: "Get the f*** out man!"
My eyes: Help.
Rob's fist: I got it.
?????

After that, Bryce stopped coming around, Rob and Liz ended, Rob and I began. He had this whimsical charm about him, something that I can't really comprehend, even now. It was that twinkle in his eye that set off just as the corners of his mouth pulled up to reveal a charmingly crooked tooth. It was the safety from Bryce, from the creeps at the bar, from the loneliness. It was the need to be needed.
We were together in the most fucked-up way people can be, but it was our way. His fist was just as quick to turn on a creep who looked at me the wrong way as it was to turn on me if I said something he didn't want to hear.
Dating a dealer had its perks, but I'm not sure they outweighed the downers. Life was unpredictable in that boring way, and our income was more inconstant than his temper. I went through eight waitressing jobs in a year and Rob got fired and rehired from his step-mom's restaurant about as many times. People I'd rather never have known stopped by often, but that was our living, so I played the part. Rob disappeared until the early hours of morning clubbing, selling, cheating. Yet I needed him. I loved him, at least in a sense. Why else would the mere thought of ten years apart suffocate me?
?????

Our front door couldn't really slam—it was too flimsy and only made a rickety creak at best. But I learned to flinch at such a weak clatter all the same. Even when it disrupted me from my serene, steaming mug of black coffee at 6:45 AM, fear swallowed my irritation.
"Good morning?" I asked, tearing my eyes from the riveting swirls of rising smoke.
Rob grunted and staggered toward the couch.
"You look like s***, you know. And you're already late for work."
"Mmwork? N-no job." If his eyes had been sober, you could've described the expression as doleful. As it was, the adjective of choice was infuriating.
"Again? Rob, we have a life to afford! What don't you get?"
"Eli f***ing tried me, all right? He thinks he knows s*** because he found my dad but he don't know fucking s*** and he tried me. We got into it. Dee chose him. It's not my fault." Eli had been Rob's dad's (Robert Senior's) closest friend and the one to discover Robert Senior's corpse after his suicide.
"That doesn't mean go out all night to party it off. Four of your guys came by last night. They—" I shuddered. "You know how they treat me. It's worse when you're not around."
In an instant, Rob's frustration smoldered into a feral snarl. "Who came? Did they touch you? Tell me. If one of those guys laid a f***ing finger on you, I swear to God, if they even—"
"Calm down!" I said. Just as quickly, his smoldering rage melted into quaking sobs. I reach for his thick, knobby hand and stroke small circles.
"I… you're too good," he said, clutching his head in his other hand.

?????

It's going by quickly though, right?
Stop pretending it isn't s***. I know it's s***.
Just try to stay out of trouble. Maybe they'll cut you a break.
I'm trying, babe.
Sorry. I've been meaning to tell you… I was going to tell you when I found out. Then, I was going to tell you the next day, and I tried to bring it up every day before you went away but I couldn't even imagine your reaction because I never knew what mood you'd be in and I put it off and then it seemed like too to wait so I didn't say anything and—

?????

"Jessss, Jesss I f***ed uup. S***. I fucked up reaal badd." He punctuated his words with sobs and gasps. "S***!" His primal roar made me wince, even through the phone. I could hear the faintest trace of a siren.
"Rob, it's four AM. What the hell is going on? Robert!"
"He flew through the back window, Jess. Fucking impact glass. That s*** ain't meant to be broken and his f***ing head broke it! The f***ing car is totaled, fucking rubber all over the street. Fucking cops on their way. Goddamnit!" I could practically see and certainly hear him hurling a dislodged fender across the accident scene.
More heavy breathing.
"Jess, I love you."
"I… you too." I didn't realize I'd been holding back tears until I let them go. The siren's blare magnified and then silence. The sounds of our life collapsing that night would have been more comforting than staring at the cracks in the paint of the barren bedroom walls, counting my last normal seconds as they trickled away.

?????

It took the victim four days to die. Rob's freedom took a year to do the same. He was a shitty driver sober, but given the alcohol in his system, they called it manslaughter by DUI. The lapse year moved at that bizarre pace where each moment is timeless while each day is fleeting. He would alternate between detached, fervent, depressed, and careless in the course of a day, and always end in reckless abandon. His dad's bipolar gene had finally kicked in.
People wonder (sometimes aloud) how I figure he's worth waiting ten years for. (I don't answer.) I visit when I can, write when I can't, and call every Saturday at five fifteen.
I've learned a few pointers about prison life too. The guys tried to get him to join a gang. He refused, and three of them beat him nearly unconscious. Then, he got put in total isolation for a few months for "arousing trouble," and then he was relocated. In the new institution, he takes official culinary classes. You know, so he'll be ready for the world when the time comes to face it. Sometimes, I think this will be good for him. He'll be nearly forty the next time we're truly together, and maybe he'll be ready to settle down. For Joe, at least.

?????

Come on! I only have two more minutes.
I'm… we're having a baby boy. Joe.
What the f***? How long have you known?
Six months.
What—what are you going to tell him about me? Joe…
The truth.
Make sure he knows how sorry I am. Don't let him hate me.
He won't. We won't.

?????

I didn't intend to fall in love with a convict. But it's been almost five years since that day at Bryce's, and here I am, with our little boy. I can see Rob in him—in his smile, his height, his appetite, even in his temper tantrums. He likes school (I don't know who the hell he got that trait from) and he's good at art and sports and making friends. He's perfect. Tucking him (and of course his stuffed Rhino, Steven) in every night reminds me exactly how to measure a relationship's worth. Being alone is difficult; staying faithful is even harder. But when Joe glances up at me every once in a while and says, "Mommy, tell me again how Daddy saved you from that bully?" the shadows of doubt disintegrate in the light of our son's smile.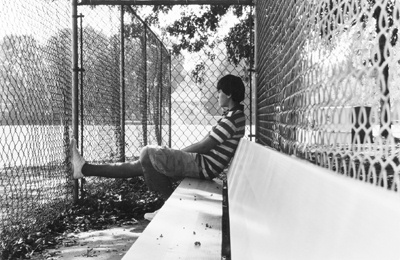 © Kyle W., Pompton Plains, NJ