Through Wider Views
May 25, 2011
Everyone has something different about them. A defining feature. For a selective few, including myself, that feature is being visually impaired.

When I was younger, I remember the struggle. Trying to grasp the concept that I would never be able to see the world the same way the average person does. Other than the small amount of sight I was born with, my vision was gone.

Many visually impaired people, including myself, don't dwell on being visually impaired. I know many people with little to no sight who have gone a long way in their lives. If we were to dwell, life wouldn't be as enjoyable.

If you were to ask the average person on the street, their response would be simple. If you asked them if they thought a blind person could do anything, even something as simple as tying their own shoe or combing their hair, the answer would be no.
These people aren't very well educated. I know a blind lawyer. I know several blind people lobbying for our rights as blind people. Blind people are able to do much more than what their jobs require.

There is a blind person I know who uses a white cane while wheeling a wheelchair. There are many people who can hardly wheel their own wheelchair that are sighted. Those people definitely wouldn't be able to navigate with a cane and use their wheelchair.

Another blind person I know ties his own ties. They are on straight, and look nicer than when sighted people put their ties on. A blind woman I met has gone zip-lining in the jungle. I know a blind couple who ride city transit to get to and from work. They don't use a sighted person to help them.

Like many others, being legally blind, or in some cases totally blind, hasn't held me back from going where I want to go, or from participating in what I want to do. I show livestock, swim on the city and school teams, throw on the track team, and I want to attend Cornell University. That is a lot for someone with sight to do. I am legally blind and do that. I also travel the world with my family. I have many memories of trips that have changed my view on my life.

One key example to this is the family we saw on the Amazon river in Peru. We were on our speedboat looking for wildlife on the riverbank like all other days we were there. In the distance, we saw a small boat floating towards us. As we got closer and closer, we realized this wasn't an ordinary boat.

The family had used logs to put a boat together. On the boat was everything they had gathered from the last year. Every year they take a trip to market in Iquitos. They had bananas, plantains, and a pig on board, as well as the family. Our guide bought some bananas and plantains from them. This is their yearly trip. Since they sell their boat, the family pays the fare to ride the river taxi home. That experience opened my eyes to how fortunate I am.

I don't think about how fortunate I am. I don't have to work near as hard as they do. I have games to play, and can go on the computer whenever I want. They don't have anything near Internet. They are always having to work. They make the American people look worse than they already do.

Another activity I participate in is showing livestock. At showtime, people ask my mom if she thinks I will get a red ribbon. To this date, I haven't gotten a red ribbon for showmanship. I do pretty well, and I enjoy it. I think most blind people would be afraid of pigs, and I don't blame them.

I have been around large livestock my whole life. I can see well enough to know when a pig is coming at me. I can figure out if I need to turn it around or let it keep going. If I were totally blind, I would be afraid of pigs. But thanks to being raised on a dairy, I am not afraid of large livestock.

My best friend forgets too. He and I walk though town sometimes, and I do just fine. We spent a lot of time together at the livestock show. I am not sure if his mom knows, but she is another mom to me. So she ought to know. I am fairly sure she knows, since his dad knows. Hopefully she has told him before so that it isn't a total surprise to her.

To be honest, there are times I know my teachers forget. Although since I don't put it out there, I am not surprised. I would expect them to remember though. I see them every day. In some aspects, my teachers forgetting is a good thing. In other aspects, it isn't because they don't do everything I need them to do.

Through the first phases of my life, I have changed views about not having full sight, and have adapted to these changes. I still text in class, and yes, get away with it. My life is still enjoyable. Having little vision hasn't held me or any other blind person back from what we want to do. My vision doesn't have to rule my life. Being legally blind really is nowhere near as bad as it sounds if you take advantage of life.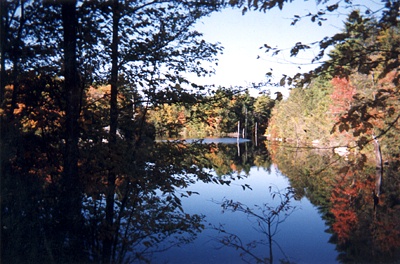 © Jacqueline W., Milton, MA