Party!!
May 25, 2011
Did you know two out of three children have a theme for their birthday parties?

My cousin was one of those two out of three children to have a theme. A theme that was crazy, ironic, and absolute fun.





FEAR FACTOR!

For my cousin it was going to be huge. Having the boy next door (who was also my cousin's great competitor) come over with his "pals" to compete against my cousin, her "BF's", and I in the fear factor race. We couldn't loose, we had to win to show those boys we could be dominate.



Finally being my turn I pass my first level with smelly wet noodles in my hair; I turn the corner of my cousin's big white house to see.....

White on the outside, to an unknown jelly substance in the inside. Hanging from a red ribbon that donut was going to get it! I swiftly run to the unknown jelly donut that was hanging in it's doom. The rules simple I dig in, kneeling in a pit of the mud (that was bound to be part of my next level). Using just my face; I bite into the donut to find my worst enemy.




BLUE CHEEZE!

I knew if I gave up I would loose the race, for everyone. Finishing off that disgusting piece of art. I sprint to Level three. I throw the muddy eyeball to the ground and start to to run to the next level only to stop.
Throwing up wasn't as bad.... as my cousin taping me throwing up. But I couldn't give up I propelled forward.

Running around the block in mens cloths isn't as easy as it sounds. I thump my way down to the last level. Ringing the doorbell, the door opens to show a tall blond, brown eyed lady standing in front of me with a cup of green liquid in her hand. She moves it closer to me as to drink it. Scared it would be something else disgusting I start to blubber like a baby wanting it's binky; to the lady saying it was just green cool-aid. I start to feel better that I wasn't going to be poisoned again. Inhaling the refreshing watermelon cool-aid, I start to sprint back to finish the race once and for-all. Neck and Neck with my competitor I run pass the finish line winning the race.


I remember ever second of that day; till the second I pulled out of my cousin's driveway in my dads honda. Me with my childhood face looking out the window with my stubby hand waving them good bye. Until next time.
All the days me and my cousin's spent with each other. I now realize how much they have taught me, to appreciate the life I was given, and to appreciate what others have given to me. If it weren't for them I wouldn't be who I am today.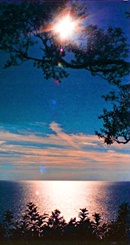 © Crystal B., Gresham, WI