Disneyland
May 25, 2011
Spring break of my freshman year as fast approaching. And what a better place to spent that spring break than Disneyland! Full of stuff to do, ride, food, and fun! Even more great when that time is spent with friends. I was given that chance, two full days in DisneyLand to do whatever I felt like. This could be good!

I make it sound like I would jump on that offer the first chance I got, however it is more complicated than that. At first I thought hat my friends would be jerks the entire trip and make life miserable. If that would be the case then I'd rather spend my spring break at home! But when push came to shove, I couldn't pass up the opportunity of a lifetime. I went to my mom and she wrote the check that payed my way to DisneyLand. I had just booked my spring break in California!

When I turned in the money I realized that I had made the right choice. I was going to DisneyLand. We were going to have so much fun! Yet the days just crept by so slow, we couldn't wait!

We all knew that southern California was a long way from home, but it was even longer on a bus! This was the part of the trip I dreaded. I don't know about you, but 22 hours on a bus with people intentionally keeping you awake is not my idea of fun. So I braced myself, gritted my teeth and prepared for the worst! Yet now looking back on it the trip wasn't that bad, I almost enjoyed it! I mean it was a charter bus so it had a DVD player, and I was loaded with so much junk food that I couldn't even finish all if it. My friend and I got a good seat in the middle of the bus away from the annoying people, and hey, I even got a few winks of sleep! We left home early in the evening on saturday and arrived in Anaheim late in the afternoon on sunday. So as expected the bus ride was a little less that 24 hours, a long time to be on the bus!

When we finally got of that dreaded bus, we checked into the hotel. After our group found our room and made our sleeping arrangements we had some free time. Later we had a pool party and pizza which was pretty fun, but we hadn't come all this way just to hang out at a hotel. We had come here to go to DisneyLand! We were only a few blocks away and had not gone in! It was torture! We could taste the churro we wanted in so bad! Nobody had gotten much sleep on the bus so we were tired, but we we so exited to get into the park that we only got a little sleep.

Even with little sleep we we still determined to have fun! I mean we were in DisneyLand for god's sake! How can you not have fun in DisneyLand! I don't think I will forget the fun I had over the next two days! We went on rides, ate some of the great food they have at DisneyLand, and saw some all of the cool attractions that they have at the park! While we were at DisneyLand we got the chance to go back stage and do a recording session where we played several Disney themes from different movies. We also got a chance to march in the DisneyLand main street parade!

All the stuff we did at the park was so much fun, but what really capped of the trip was the fireworks show! It was so cool! They set the fireworks to music and even had a Tinkerbell flying around the castle! After all that fun I had earlier that day it was a really good day, but after that fireworks show it turned in to one of the most memorable moments of my life! I could go as far as saying that I was high on happiness I was so hyped up! That was a good day.

The two days spent in california was so much fun, but like all good things it had to come to an end. After another long boring bus ride it was back to reality left only with souvenirs, pictures and memories! I look back an the trip and I see how foolish I was not wanting to go on the trip at first. All the fun stuff I would have missed! If I learned anything on this trip it would be to live life to the fullest, with no regrets!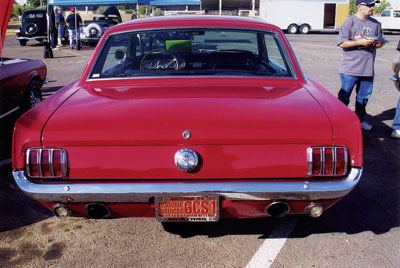 © Andy G., Phoenix, A