Heaven is Only a Flight Away
June 2, 2011
I have been waiting, counting down the days, starting at 100. The last day has been marked off with an "x." My bags have been packed for days now. It is 2:00 a.m. --that's what you get when you fly with Skymiles. It is finally time to go. My heart races in unbelief as we pull out of the driveway. Our bags are piled so high it is hard for Dad to back out!
When we arrive at the airport it's as if the people there are nocturnal. The airport world functions 24 hours a day. I am so glad it does! There is absolutely no way I could wait any longer. Boarding the plane is the most exciting activity. I know that only feet away, stashes of Biscoff cookies await me. The seatbelt sign flashes as the plane takes off.  My ears pop and the swirls of snow are left behind (not tearfully I might add).
As always, the boredom of the flight sets in. The flight attendant calling button becomes increasingly tantalizing. One press could bring offers of extra peanuts or even cranapple juice. At least I think… I have never had the audacity the press it. The arrival to the layover destination is a relief. Breakfast at the food court is waiting, and with luck, sleep. 
We board the second plane. This one will take us all the way there. I tremble with joy as I realize my oasis is only hours away. I snag the window seat so that I can look out when we land. This flight seams shorter. Besides stepping on the flight attendant's toes on the way to the bathroom and hitting rough air over Cuba, things go well.
Landing is almost too much. I can nearly feel the humidity as I spot the first Palm tree and realize-- I'm home. The pilot comes on, saying, "Thanks for flying Delta and welcome to the Cayman Islands."
From my experience visiting Cayman I have realized that having something to look forward to is key in being happy at all. I have also learned that the wait will pass. And that it pays off. Endure to the end.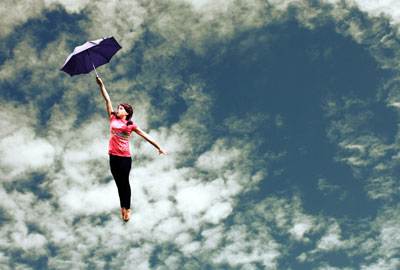 © Sandy H., Woodbridge, CT