When My Parents Got Divorced
May 19, 2011
One day I noticed something strange about my parents. I was four years old and my two brothers were just about one. My parents started yelling at each other after my dad made breakfast, which was pancakes. I later found out that my mom hates pancakes. Anyway, it started out like this.
My mom said to my dad, "You know I don't like pancakes."
Then my dad shot back, "Yes, I know, the kids wanted them." So my mom went into her room and my dad followed her. I fed my brothers and then fed myself. My parents sat in their locked room for what seemed like hours. Then my parents started getting louder, that's when I noticed they were mad. They started yelling about something else by now. So I sat in my room crying. After a while my mom called me into her room, my dad had been gone for a while. I just remember carrying a pink, fuzzy, big blanket my Nana made for me into her room.

I walked into her room and she said to me,

"Sit on my bed, I want to talk to you." So I jumped up onto the red and yellow quilted bed. She explained that she and "daddy" would be taking a break from each other for a while. I started crying and ran into my room. I was scared and thought I'd never see my dad again. For a while my dad lived in the basement, so I got to see both of them everyday. Now he has his own house and they share the custody so I get to see them both a lot.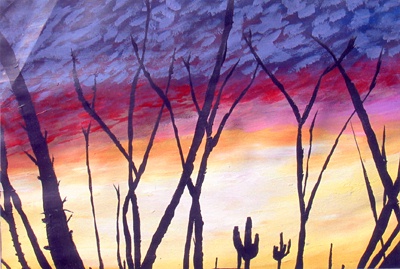 © Kassia C., Phoenix, AZ