A Night To Remember
May 18, 2011
It was a brisk and breezy night in early November. The moon was spilling on to the still lake. The only audible noises were those of the leaves rustling and the small waves brushing the usually still shoreline. I settled into the cool sand and let it run through my fingers.

Next to me was the boy who had my heart. His hair danced in the breeze and his blue eyes were holding a warm stare in my direction. The conversation taking place was as it usually was, comfortable.

The conversation had suddenly disappeared and the sounds of the night had shown to their fullest intensity. The only silence occurring was the silence between he and I. I felt his eyes on me, intently waiting for a look in return. My mind was going through what seemed like a new thought every second. I had decided to finally return his long awaited gaze and found him smiling ear to ear. My busy mind froze. He softly said the three words every girl dreams of hearing.

"I love you." He had uttered these words in the past, but this instance was different. The look in his eyes read of deep admiration and truthfulness. The gentle breeze ever so gently moved his usually perfect hair ever so slightly out of place.

The outside world no longer existed. Anything outside of he and I had vanished without warning. Tunnel vision set in and he was all I could see. My heart started to race as he leaned forward in slow motion. My frozen mind went completely blank except for one sole thing, "This is what I've been waiting for… Finally." As my eyes closed I awaited a visit from his lips. As the moon flooded around us he gave me a first kiss that I will never succeed to forget.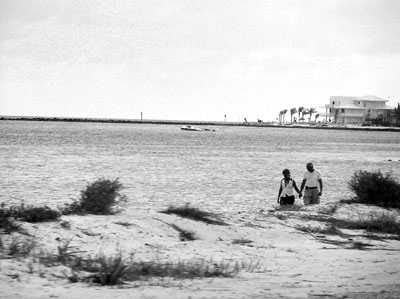 © Edgard B., Coral Springs, FL