Past, God, love, life
May 9, 2011
Sitting in my living room thinking about all the important things that have happen to me. Like all the times I did something stupid "very stupid" to get something that I wanted, or a memory of my first love along with other sad, tear flowing memories and obstacles that I had with my parents. But All of my memories and past experiences have lead me to one major thing, Thanking God for having the life that I have and the experiences that I have gone through in the past years "whether then being highs and lows of my life, have come to a conclusion about me being lucky really lucky for my life, and for what had happen, and for what I have become over the course of the years. After reflecting about all of my life's past events I also came to the conclusion that I was not even half way done, so then I came to a weird questioning of what made me have what I have, and what made me be what I end up to be. Then I notice that I had to start from the beginning of my life journey.

Now that I am thinking I went back to Mexico yea Mexico. I don't have much memory about being there but the thing that I really remember is walking bare footed and not listening to my dad or mom. I and my youngest brother and I went all around the small town of Empalme Sonora. I also remember always getting big cuts on my feet for being a little brat who wouldn't listen. The cuts were always full of blood, and were horrifying. I will never forget, it was a constant pain every time I ran an would step on a rock, it was like stepping on sharp glass that will pierce my foot. But even then I didn't even care I just wanted to run and play and be a kid. Playing on the trees and eating lots of mangos between my wide eyed smiles was the way I wanted it. I think because of those times as a kid I became a little rebel when I wouldn't listen to anyone except my own. Pretty bad for being a five year old. I did some crazy things as a child, like the one time, my sister Sarahi and I were playing this super Nintendo video game. When out of nowhere she all mad at me because I was being a little brat because I lost the game.
Sarahi yelled at me, "You are just a stupid little girl."
I responded crying, "Well you are the meanest sister ever."
She reapplied back," I think that you should change your attitude it looks very bad on a girl to act that way."
Then I replied, "Act like what?"
"Acting all mad when you lose, you will not always be best at everything, you have be more patient or one day something really bad will happen to you for being a little bad girl"
"Okay well if you say so lives me alone." I replied
Then rapidly I went to the kitchen and got some cookies and decided not share them with my big sister sarahi. I pulled over a chair with the thoughts that up in the highest kitchen cabinet there will be cookies so my ambition to get them first started after I pull over the chair I clime up and verily reach the cabinet the I took a look inside the cabinet and I saw my worst enemy. The worst enemy that gave me nightmares every now and then a big house spider was claiming onto my hand, I let a big scream like never before I bet you could of tell my mouth was wide open letting out this horrific scream after the big cream I fall to the floor my small head went first the good thing is that I switch position alittle and let my chin go straight forward to the floor I crack my skin open. The last thing that I remember is seeing piles of red blood like if there were infinites lakes. After all the deal I went blank and don't remember anything else. All the time that I think about what happened to me I think of deserving what happen to me for not wanting to share and for wanting to be the first one to get the dumb cookies. Now that I remember seems that experience I have never being selfish or done nothing like that anymore. That are just some memories that came to my mind wild I was watching TV and I wish to take that back and never be an annoying little brat. A lot of memories and feelings came to my mind like thousand stars are in the skies. Some of my thoughts were bad and some were really happy memories full of sweetness and gentle as a beautiful pedal. A memory that I consider had really impact my life in a negative way that really had full me of sadness and questions. A memory of not having an experience or activity with my mother as a child. Know that I really put a brain into all these ideas I came to the thought that I don't have a memory about me playing or talking or doing some kind of activity with my mother "had made me crazy!!" As sad it can be I never did anything fun with her "I mean it!" she was always working and never give me the guidance of a real mother like in the first ten years of my life. One big memory that I did have is me seeing my other little friends being take care of and playing with loving them spending time with them at the park, afterschool everywhere and I did not. The children at school will always talk about their mother, and saying that their mothers had always being there to play with and to joke with. The thing for me is that I didn't do any of the stuff that my partners from school use to brag about. The problem with my mother is that she wasn't there emotionally, like to help me about if I was sad or to listen to me anything. My mother has always being there materialistic and economically but never in an emotional way "you get it?" I don't reproach her anything even I am thanks full for all the work she has done for me and for always buying me things and giving me toys, but I really wish that she could of spend time with me in those crucial years of childhood. But that's okay Know we had a conversation with my mom about the pass.
My mom told me," I know that I wasn't always for you when you where a child."
I replied, "Well mom I know but that's okay that happened long time ago."
My mom she replied," well yes I know but I notice that I did left you lonely and I did feel guilt for that but you had to understand that there where hard times and that both me and you dad had to work a lot to sustain you in good position!'
"well mom I know and I do thank you for everything and I also understand you don't worry that pass long time ago and I really don't care about the pass anymore, I love you mom!"
"I love you too mija."
I remember in eight grades being a teen that dint care much who live a normal life going to school being at school having friends and going home, really a routine. The big impact in my life "the first love" yeah wow really exciting, I remember the phone ringing and me answering
I answer, "hola who is this!"
Marvin replied nervous,"hola is this cinthia?"
I say curios," yes it's me cinthia!" I felt nervous at the moment.
Marvin replied," well hello it's me Marvin you don't know me but someone gave me your number and I thought we could be friends!"
"Well yeah that's ok Marvin I am cinthia and yeah I hope we become true friends!"
Thought that because seems that moment my love for him grew rapidly and it was not a friendship it was love. That I will never forget it's going to be stuck in my mind for ever. It was like the earth stood still like if everything was in pause mode, my heart pump faster and faster to the beat of love and I felt a hurricane inside my belly my eyes got big and bright I felt something that I even never had felt before. That was my future boyfriend Marvin we talk and talk for 2 weeks on the phone the best two weeks of my life. I had never met him before and I was full of nervous feelings as the shy person that I was. The day came I remember that I was wearing a blue jean a sky blue shirt with a orange undershirt and a pair of chuck tailor converse. Nervous as ever I was no makeup on and with my short curly hair and with bangs that cover half of my face. The day was windy and more beautiful it could of not get. The skies were blue and the sun stand up high giving of yellowish and orange rays to the day. And there I was shy old cinthis standing with the wind blowing on her childish face. i really remember the feeling of running away and of forgetting about everything my nerves where everywhere my legs were shaking and shaking. At the same time the feeling was sweet and full of love because I really like him in always I remember the sound of his smile and my nerves come down. At the time he got there i saw him get out of his red beautiful red car and as he walk to me the time stop and I just admire him. I saw the beautiful face, those slanting brown eyes that make impatient. I admire his big lips that only made me day dream, they were full of sweets as an apple pie my little mind went flying everywhere million of thoughts came to my head and I realize that my heart pump to a slow paste and I saw the skies pink. After that I realize that it was love at first sight. When I saw him closer he came to my soul and gave faith to my heart I could of never guess that seems then I will be in love for ever I knew then and I know now that I am going to love him forever and that I knew that I will never want to be with another only him. Then we talk and talk about everything we walk round and for me that was the best just seeing him and noticing that he will be the only one who I will love. He give I hug and that was so sweet I was full of shyness but I felt like and angel when he hug me with those arms. That was quiet a beautiful memory that I had. After thinking to me the biggest and most beautiful moment of my life came up the first kiss. Oh man I remember it was dark night and it was a full moon full of love and gentleness full of sweetness. First it come a big hug that made the time stop, then it came the eye contact that made me impatient and shy. Our lips came closely together and
He whisper came out of his mouth he said "you are lovely."
I just laugh and replied, "thank you are really lovely too."
Marvin just smiles back and say. "You should feel my heart is going really fast I had never felt this."
I just got nervous and said, "well I feel really nervous too I feel like I have meet you before and I really feel like I know you."
Marvin whisper, "maybe we are just destiny to be together God wrote it in our destinies."
Those words got my hearth jumping with excitement and happiness. Then soon our lips touché I felt a big connection something really beautiful, my heart was happy and I felt fully in love when a kiss his lips. That was the best part of my life thanks to that I am a really loving person and I really think that love does make a heart fragile and ready for emotions that only make one happy. Know me and my boyfriend have been going out for almost three years. That makes me really proud of everything that I thought when I saw him for the first time because I know that what I felt got stronger and I know that our love is going to last forever. In the last couples of months my life got the biggest shift the one shift that I was waiting to happen the last shift that will make me completely happy. But let's start from the beginning of the shift that change the way that I looked at things. I met this really cool but at the sometime shy person. My first real best friend Laura Islas who we actually share a lot of things in common like ideas style and everything we can imagine. Plus she is the nicest girl ever "like when she is happy" she has a heart of the size of the world who she likes to share her love with others. Laura is a really awesome good friend who will always give me good example to fallow and keeps me on the right path "yeah stopping me of doing stupid things" seems I see her as a truly sister who will always be there for me to count on. That is the best thing about having a real friend. Laura introduces me to God. One time me and Laura where just sitting at lunch and then she stared to invite me to church
One day Laura told me, "so what if you go to church with me I promise that it's going to be fun and that you will not regret it!'
I just replied with a laugh, "well okay if you said so"
Laura said," I promise it's so fun and once you start going to church everything is going to change in your life you are going to feel much better and much happy with yourself and with others!"
"Well I guess I could give it a try just for you let's see if going to church and getting close to god can change my life so much as you said Laura!"
Then the day came and it did truly change my hearth and completed it with love and joy. Once I got back to the good pathways of God, my mind started to really function and motivated me to keep going even more and to accomplish and set goals to myself. God pathways had really change me on the way of really respecting my parents even more, Some people may think that it's crazy that God can change the hearths. It is true god change my hearth and it really has help me progress and live happy surrounded by love. And everything thanks to the all mighty that complete my happiness. God has made a huge impact in my life that even my boyfriend and I go to church together that completes me even more because now that I love going to church i love it even more because my boyfriend goes with me, that makes me really happy it makes my hearth jump and dance with a gentle joy of awesomeness.
Know that I think about everything my past life really had made me who I am right know. I give thanks to God for really putting angels in my way so I can go to a good pathway in life. I realize that my life before dint had a meaning it was mostly freedom and not caring as a child but now that I found the meaning of my life to fallow my feeling under God will. I know the life is short but short and everything it can be really expanded when you are truly surrounded by the true love. I am really thankful to God for everything that he has put in my life and for making me had the life that I have and know that I understand everything happen for a especial reason. I feel lucky for my life and thanks full to my parents for everything. And thanks for the good friends that I have had in my life. My ideas are full of feelings and I thank "mi Amor" for all the affection and love and thousand of motivation words that he had given me. My life is full of past love but mostly if full of life. Know I can't wait to start a new adventure and to see what will happen later on in the future.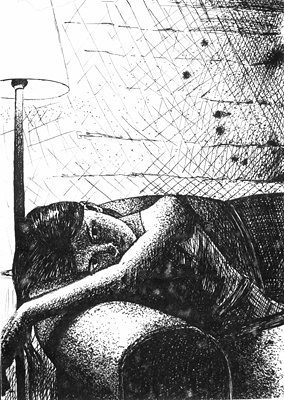 © Elisabeth R., Elmont, NY