The Coldest Winter
April 29, 2011
The coffee is growing cold in my hands as I sit here, staring out the window at the hardware store across the snow covered street. The coffee shop I am in is bustling with noise. This time of year always freezes my heart, but I can distinctly remember when I used to enjoy winter, and when I actually used to wear a genuine smile, before the winter that buried my brothers.
I live in a little town in Michigan called Forgiveness. Two years ago I was a sophomore in high school, my big brother John was a senior, and my little brother Mattie was in elementary school. John had applied to the Juilliard School of Music, and I remember the night my parents announced his acceptance; his grin was as big as the sky. I didn't know it, but that was the last time I would ever see him smile for a long time.
John inspired Mattie to be a musician, so the next day John drove Mattie and me to the instrument store through the thick snow of winter and bought Mattie a little viola. On the drive home, John and I were telling Mattie how great it would be to play an instrument. I can still see the light in his eyes. One moment, Mattie was turned around in his passenger seat talking to me, with a boy grin on his face; the next moment all was black and I heard people screaming and yelling. John had jumped a red light, and a truck had crashed into his car on the passenger's side -- on Mattie's side.
The next few months were those of confusion and grief. We buried Mattie in Forgiveness Cemetery. John and I fought often, which we never used to do, and so I had no idea who we were anymore. Dad didn't come home from work until early in the morning. Later I learned that he sat in his car almost every night a stone's throw from Lake Michigan, a place he always used to take Mattie and John on the weekends to fish. It was their Father-Son thing, a bonding time that kept dad captive to that lake for many years after Mattie's death. John lost all interest in school, in friends, in family, in music. In the spring, he told us he had passed the offer to Juilliard and he was moving, leaving us far behind. My parents tried everything to change his mind, but he was firm in his decision. After barely passing his senior year, John packed his clothes in his car and left. He didn't even bother to take his viola; music was lost to him.
Now, two years later, I am a senior in high school. The other day in English class I was assigned a poem and told to relate it to my own life. The poem given to me was titled "Footprints in the Sand". When I read it, I had to take a deep breath. I knew then that I had to find my brother. I realized that we had never carried each other during the difficult time of mourning, but I knew that we both wanted to… we just didn't know how to carry one another. Now it was time to learn.
Footprints in the Sand
One night a man had a dream; He dreamt he was walking along the beach with The Lord.
Across the sky flashed scenes from his life.
For each scene he noticed two sets of footprints in the sand:
One belonging to him, and the other to the LORD.
He noticed that many times along the path of his life there was only one set of footprints.
He also noticed that it happened at the saddest times in his life.
He asked the Lord, "LORD, you said that once I decided to follow you, you'd walk with me.
I don't understand why when I needed you most you would leave me."
The LORD replied: "During your times of trial and suffering,
When you see only one set of footprints, I didn't leave you; it was then that I carried you."

Before I go to college I have to see my brother and at least try to talk to him. It wasn't very hard to find him using a people search online, and now I am in café in Wisconsin, looking across the snow- covered street at the hardware store where John works. The coffee is growing cold in my hands as I sit here. Soon I stand up, put on my coat, and walk out the door into the whiteness of winter. It feels like I am in a dream; I cross the street and enter the Hardware store. John looks up from the counter with widened eyes, and to my surprise, he comes from around the counter and hugs me for a long time. "I'm not going back for graduation without you" I say, and to my surprise he smiles. "Ella, it's time for me to come home."
On our drive back to Michigan with John's suitcases piled in the backseat, my brother tells me that he moved away from our town so he could get away from the sadness. He moved to Wisconsin because he could still see the great lakes, and he liked to be reminded of the good times he had fishing with his little brother. He starts telling me something, but then stops because his voice cracks; I reach over with one hand from the steering wheel and hold his hand in mine. I tell him that no matter what, from now on we are together, and we have each other to lean on. It should have always been like that, and I tell him I'm sorry I wasn't there for him when he needed me. As we pass the sign welcoming us to Forgiveness, Michigan, John says, "Ella, the reason I left was because Mattie's death was my fault. I should be dead, not him." I realize that he has been buried with guilt these past two years. When we get back home, I sit mom and dad down with John and tell them what he said in the car. There are tears and there is laughter, and we wind up hugging, forgiving, healing, and becoming a family again.
John unpacks his stuff in his old room, and tonight I feel a comfort that I haven't felt since Mattie died. The next day John puts his viola in my car, and I drive him to Forgiveness Cemetery. I follow him as he walks to the grave, and he takes out his viola from its case. We stay there for a long time, and I feel a peace settle in the air as John plays the viola to our little brother. He plays for the love that Mattie brought us, the joy, the sadness, and now the forgiveness. The trees rustle and I can tell Mattie is here with us, smiling his big grin as his brother plays. And today John finally smiled, so I know that everything will be alright.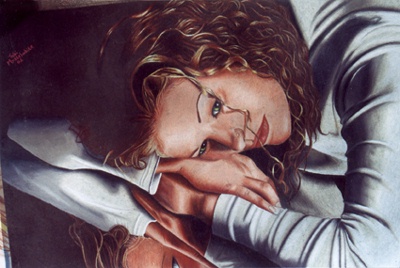 © Tabitha M., Kannapolis, NC