Toy Chests Are Not My Friends
April 2, 2011
I've always been one to do without thinking. When I do stupid things, no thoughts about what could happen go through my mind. So when I choose to climb on-top of the wooden chest to clean a large plastic horse, all I knew was that I wanted to clean the horse. Of course, I could have just pulled it done, but that never occurred to me, so I decided to climb onto the toy chest. Being a small child in second grade, the box went past my chest making it impossible to just hop onto. Since I couldn't hop, and I wasn't planning on giving up anytime soon, I just found a different way up. What I didn't know back then, was how hard wood is when you smack you head into it.

Next to my wooden toy chest was a pink baby cradle that was just low enough that I could crawl onto. I scrambled onto it and shakily stood up. As I was taking a step to hop to the chest, I stumbled on my own foot and started falling. Straight into the wooden rectangle. Shutting my eyes, I let out a little scream, thinking it could save me. All of the force from my fall went into the little space right between my eyes as I smacked into the corner of the chest.

Clutching my head, I hopped over clothes, toys, and lots of other things to the other side of the room to get to my bed. My room had been a mess for so long that I memorized the trash. My mom and brother came into my room to see what happened. I didn't cry or even notice the flowing blood until I lowered my hands. While I have tons of scars that is the only scar that I had to get stitches for, also the only scar on my face. After the incident I would like to say I learned form it, but really, I climbed right back on that toy chest the next day.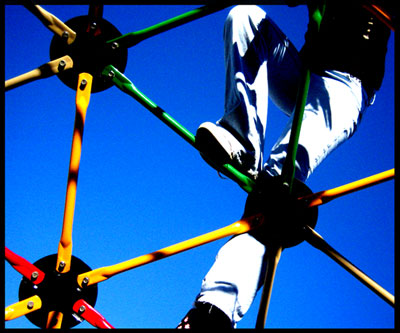 © Brittany T., Ocean Shores, WA