Waves
March 28, 2011
I never really told anyone about this. My grandfather and I have always been really close. We share a lot in common; Both of us love to read and we both love the beach. Once, while my grandmother and younger brother were asleep, my grandfather and I snuck out of their beach house. That night there was a hurricane coming, and even though it was close to one a.m., we were both awake. We'd stayed up late watching David Letterman on TV, waiting for the tide to come in. Grampy had said he wanted to show me the waves on the beach.

The rain came down heavily, and I kept my hood pulled tight around my face. We took the car, and we both stayed quiet on the way to the pier. The beach was empty of people. The typical bumper-to-bumper traffic had vanished from the streets and the crowded sidewalks were vacant.

My grandfather smiled as he drove, occasionally pointing things out to me as we passed by. Laugh lines spread across his face as he smiled again and said,

"The waves here during a hurricane are incredible to watch. This is one of my favorite things about the beach."

I smiled too, because I was happy he was sharing this with me. I could tell this was an adventure he usually took alone, except for maybe with my grandmother, and I was glad he would want to take me too.


We pulled into the parking lot, and parked in one of the empty spaces there. The air was frigid and wet, but we each got out of the car.

The cement wall along the edge of the sidewalk was slicked in sea spray and rain, and I looked curiously over it. I was quickly doused by a massive wave. My grandfather laughed and told me to watch out. He pointed out several massive waves, a broken buoy, and a lobster trap being ravaged against the rocks.

Huge waves churned, smashing themselves into rocks, spitting up over the wall, and overtaking one another. It was exactly like a scene from a movie- I hadn't seen waves like this anywhere else. Both Grampy and I were drenched from the combined spray and rain. I was stunned by the pure power from the waves. There was so much force between them that they created a continuous "rush" sound as they surged in. We stayed there for a while, just watching. All too soon Grampy was asking me if I wanted to go, seeing my soaking wet clothes. I grinned impishly, shivering.

"N-no!" I said hastily, and Grampy laughed, shrugging. He smiled to himself; I knew he didn't want to leave yet either.

The beach doesn't look like the same place when you see it on a sunny day, so calm and serene. I love the beach, and just like Grampy, I loved watching those waves roll in. I'm glad that that is something my grandfather and I have in common.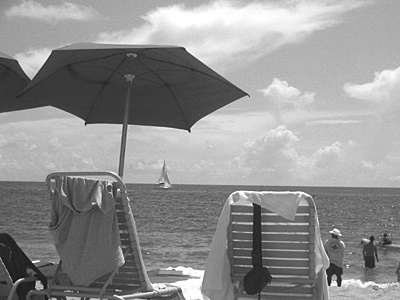 © Emily O., Boynton Beach, FL