A Strange Day at Couer D' Alene Lake
March 17, 2011
"Turn right! No turn left!" my mom yells as my dad, looking hopelessly confused, jerks the car right then left.

"Are you sure that you know where you're going mom?" my sister asks.

"Yes Alina! I know where we're going!" she replies.

"She doesn't know how to get there," Alina whispers to her friend Heidi.

She must have been right because we didn't arrive at Couer D'Alene Lake for another half an hour, when it probably should have taken about 10 minutes.

"We're here!" exclaims my mom, waking me up from my beyond awesome dream about actually getting to the lake and jet skiing.

We arrive at the lake and I can already tell, by the darkness of the clouds that it is going to be cold. There is a giant sand box type area with kids digging their tiny little hands into the sand, making the most unique sandcastle I've ever seen. It looks, at least from my angle, that there are doors and little toy figures fighting all throughout the castle.

"Yes!" my sister yells as her and Heidi jump out of the very dirty, but under all the dirt you can see the white van. Just as I'm getting out, Alina slams the door right in my face, definitely on purpose. Then my mom has to yell at her, which I enjoy a lot, but it cuts into our jet skiing time, so I go inside with my dad, who was talking to the lady at the front desk.

After a few minutes, my mom, Alina, and Heidi come walking in looking slightly annoyed. They make their way to the desk right when the lady is telling us that, my mom, my dad, and Heidi had to sign these papers and watch a video, so that they could drive the Jet Ski.

"What about me?" my sister says like she's about six years old.

"Oh, sweetie you can't drive the Jet ski because you're under eighteen, sorry," the lady says in such an annoying sweet voice that my sister looks likes she's about to punch her right in-between the eyes.

I start laughing so hard that even after Alina elbows me in the right in the gut, I still can't stop laughing.

"Um, I'm twenty," Alina says as I hold my laughter until the lady speaks again. It probably doesn't help that Heidi is about six feet tall and Alina's about five feet tall.

"Oh you are? I'm sorry I thought that you were like fourteen," the lady says in the same annoying voice, just when I thought I was done laughing.

Alina made her way to a seat in front of the TV screen with a really annoyed look on her face. The video ends and we walk towards the jet skis and I run straight for the purple one and start screaming my head off.

"Ok, ok! You can ride on the purple one," my mom says finally.
Alina, Heidi, and I get on the purple Jet Ski and my dad on the other one and my mom stays behind because she doesn't trust my dad on a jet ski. I don't blame her because the next thing I know, my dad's passing us on his Jet Ski, halfway standing up, with one hand on the handle and the other twirling an invisible lasso above his head screaming, "Ye-ha!"

After we get out of sight, Alina and Heidi let me drive the Jet Ski and even though my legs feel like icicles, I love the wind in my face as I drive, what I think is, over the speed limit. Apparently it is because Alina and Heidi start screaming in my ear to make me stop. I know just what they're thinking. "We are never riding on a Jet ski while Amy is driving again!" Alina tells my mom when we get back, which leads to her telling her that they let me drive.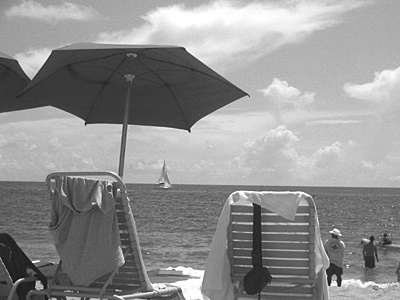 © Emily O., Boynton Beach, FL