Lost in Forever
March 7, 2011
I've always been close to my mom. Even though my parents have been divorced since I was two and she lived a couple hours away, I loved her.

After school, every single day, she would call me at home and ask me how my day was. I would say, "fine," and wonder why she even cared.

My mom cared about a lot of stuff that happened in my life. Of course she would- she's my mom, but I haven't really realized until now that she cared the most because she wasn't here to see me do all the things that happens in a child's life. Often she would tell me that she gets very sad and depressed when my sister and I aren't around. I would feel uncomfortable, really because I didn't feel the same. I didn't understand that she was all by herself. We were really all she had.

Back in October of 2009, my mom revealed to me that she had been in the hospital for weeks because of some surgery she had to get on her back. At first, I was hurt. This is a big deal- she never even bothered to tell me. Later, I began to understand that when she didn't tell me, it wasn't that she didn't care; it was just because she didn't want me to worry. Her back is better now.

As November came around, everything seemed better. I had just gotten home from school. I waited in the kitchen near the phone and turned the TV on. An hour later, there was nothing.She didn't call. Curious of why my mom hadn't called me yet, I called her cell. After several rings, she answered. It had been two days since she had called- which was very unusual for her. When I confronted her about it, she said she had to go. She was in the hospital. Again. I felt worried, but as I strolled off to dance class, I didn't show it. Everything would be okay.

Later that week, my dad told me that my mom was sick and she was getting worse. She had pneumonia and many other things mixed in between, including her Asthma. My sister had a basketball tournament that weekend and my dad said that we could go and visit her afterwards. It turned out that we couldn't. My sister and I were minors- we weren't allowed anymore because she was getting so bad that for a while she was even on life support. I felt nervous and sick to my stomach. I repeated the same line in my head over and over, "Everything will be okay. Everything will be okay. Everything will be okay." It has to be, right?

A few weeks later, my mom was out of the hospital. For thanksgiving, I was staying at my grandparent's and my mom came to visit. It had been months since we've seen her. She came with tubes everywhere and an oxygen tank attached, while walking slower than ever. Seeing her again could've felt weird. It could've felt like I was meeting a whole new person- but I wasn't. I felt normal again, running into her arms.

Over the next few months, things got better. By Christmas, everything was perfect again. No one was sick, and we went back to the lives we had before. There was no more worrying to be done.

Then, Thursday, February 11th, 2010 arrived. My family was in Antigo for my sister's basketball game. I remember not wanting to go to the game because we had swimming at school that day and my hair was a mess. I bet if I was with Mom, she would've cared about my hair. She would've let me stay.

The walls of the gym were a light cream color with several maroon rectangles painted as a border near the ceiling. I was embarrassed because I thought everyone on my sister's team was looking at my hair.

After the game, we pulled up to the Arby's Drive Through window. I didn't order anything. Just before my dad was about to pay, his cell phone rang. A minute or so later he hung up.

"Who was that?" I asked curiously from the right seat, second row of our van.

"It was your Uncle Scott," my dad said. I was surprised. Why would he call my dad? I couldn't remember the last time my mom's siblings talked to my dad. "He wanted to know about dates for your dance shows. He said he would call back once we got home."

"Oh." I thought to myself, "Cool." I've been telling my aunts and uncles to come to our shows for years. I became happy that they might actually come.

Once we got home, I headed straight into my room like usual. I opened up iTunes and pulled out my phone. *Sigh*. Another message from my best friend's boyfriends was texting me, worried they were going to break up. Again.

After a few more songs and more text messages, I heard a knock on my door.

"Hey Whitney," my dad called softly, peeping his head through my door, "come upstairs for a minute." I got up from my chair and followed him down the hall.

Up in the living room, I found my two sisters and my step mom waiting for us upstairs. I sat down on the couch next to my step mom. My dad stood in front of us, his head in his hands. Suddenly, a million thoughts ran through my head. Someone died. My first thought was my dad's sister. Only because I could see my dad's eyes swelling up with tears. He was closest to her. My next thought was my Grandma. I wasn't sure why. My heart was pounding so much I thought it would burst through my chest. I sat and waited because there was nothing else I could do. I would've done anything to pause time or go back- to be anywhere but there. I have never heard the sound of silence so loud. Simple noises like the sound of my sister's breathing or the 'tick-tock' of the click in the kitchen began to drive me insane. I could feel butterflies fluttering in my stomach, flapping their wings faster and faster as my mind continued to race.

"Your mom has passed away." My dad said, crying. "I'm so sorry."

Dad sat next to my sister, Bethany and she cried in his arms. For a moment, I sat there blankly, just taking in what I heard. Shelly, my step mom, pulled me into her, her crying too.

"My mom?" I asked, already knowing the answer. I didn't like this. I didn't like seeing my dad and step mom cry. It made me feel uncomfortable. Soon enough, I started to cry too. This wasn't fair.

After a few minutes, I went downstairs to my bedroom to be alone, but I wasn't alone for long. My dad came in and tried to talk to me, but I didn't like it. I wanted to share this sad, helpless feeling with myself and maybe with my friends, but definitely not my parents.

For the next few weeks, everything was awkward and uncomfortable for me, especially at the funeral. It was hard to eat because of all the feelings flying around in my stomach. It became the worst February of my life.

Now I've realized that my mom asked me how my day was at school because she really cared. Even if it was the littlest thing, she cared about it all. Why? Because she's my mom and she wasn't always around when I needed help. For months, talking over the phone was our only way of connecting and now I have nothing. I regret all the times I hurt her feelings. I regret all the times I was rude, but now there isn't anything I can change and I'm alright with that. On the inside, my mom wasn't a happy person. She had depression would cry a lot. But she's happy now- and that's all that matters.

Life is something that you should never take for granted. It's short, but not always sweet. Things happen and our lives depend on how we handle everything. We can sulk and cry and feel sorry for ourselves, or we can smile and get on living. I want to live. When this happened, everything that has ever been normal in my life was completely gone. It affected everything I did. I've learned how to miss and love, but never forget. I've also come to realize that forever is barely what it seems. My forever could end in the next hour, or in the next day, or in the next 100 years. I'll never really know. As I look back on my mom's life, I think that if she knew when her forever would end, she would have spent life differently. That's the thing about forever- she didn't know and nobody ever will. When I live and move on, I want to do it right. I want to be happy.
The memories I have with my mom will never fade, because my life with her is something I'll never want to forget.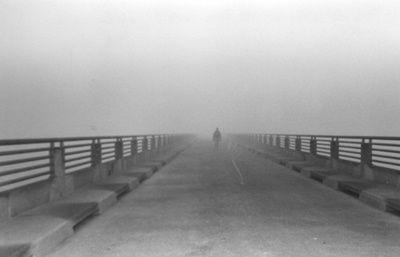 © Becky G.,Westerville, OH