Perfect Squares
February 5, 2011
They were a toybox beside me. They danced and sung and laughed and spoke in little voices. They told me who they were: toys at a toyshop come alive after dark. I could be the ballerina if I wanted to. Did I want to?

They played the field beside the hopscotch courts, where the grass, run and skipped and stumbled over a million times, had become dirt. Nearby, I could hear the girls' feet darting in and out beautifully of the perfect squares.
Next to me, a redheaded girl squealed in an off-key voice, Hurry, the shopkeeper will close the shop soon, hurry! The others broke out into a wild flurry of leaps and shouts as they all became their respective selves: a stuffed kangaroo, a jack-in-the-box, a porcelain doll. They laughed and they giggled, the shuffle-stomp noise of the hopscotch girls resonating in the background. They asked me, asked me many times. Did I want to dance and sing and pretend with them? Did I want to tune out the shuffle-stomps; did I want to be a toy? The shuffle-stomps echoed throughout the playground: the perfect squares, the giggling girls with their tidy shoes. Did I want to be a ballerina?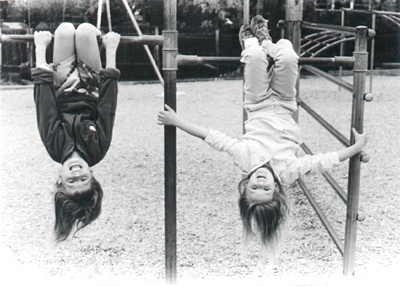 © Danielle W., Marblehead, MA