The Pain of Keeping Silent
February 4, 2011
I was eight years old when my dad left. It was a warm night in the middle of summer. I remember opening my window to let in the sweet air: I loved to feel the breeze on my skin. I was awake reading with a flashlight under my blanket. I did that almost every night. Just as my eyes had begun to get heavy, I heard the car door slam. I got out of my bed and hurried to my open window that looked out over the driveway. He started the car and the sound of Don't Stop Believing was playing as he quickly drove away. That was the last time I ever saw him.

It was clear even back then that my mom would never get over him. I would sometimes go and sit by her closed bedroom door, holding my legs tight against my body, and listen to her cry. It wasn't very loud but the pain was deafening. I would sit there for hours listening to her. It was a horrible sound, yet I couldn't pull myself away. I wanted to go in and hold her in my arms, let her tears stain my shirt, and tell her everything was going to be okay. But I never did. So instead, I sat on the cold wood floor as the night went on, waiting until her whimpers finally ceased.

As the years passed, my mom finally stopped crying every night, but the light in her eyes had gone cold. My sister Avery and I had to learn to fend for ourselves early because there would be days when my mother would not have the will to get out of bed. We learned to cook and clean and when to stay out of our mom's way. Avery was two years older than I was and attempted to take full responsibility of me. But I was quick to understand that I needed to learn to take care of myself. My sister and I became a team, working together to make it through the days. We leaned on each other and were always there for one another. Without her, I doubt I would have made it.

I could tell that it was painful for my mom to look at me. I looked so much like my father. The same golden eyes and dark brown, thick hair. The same high cheekbones and full lips. I could never figure out what I had gotten from my mom. Avery on the other hand had received all of my mother's genes. Pretty blue eyes, wavy blonde hair, and a smile that could fool anyone. My mother had been a model when she was Avery's age; her tall perfect figure was her ticket to success. But then she met my dad, and the rest is history.

Avery definitely had potential and my mom was quick to notice. She would take her to photo shoots for ads and commercials for department stores but stopped after my dad left. Avery had begun to take charge and go after her own career when she realized that it could make money it for us. She helped bring in some cash, along with my mom working as an assistant to a big corporate lawyer who had an obvious crush on her. Her boss would always send flowers to the house, thanking my mom for the "great job she did copying those files." My mom was oblivious, but it made me uncomfortable the way her fifty-year-old divorced boss would stare at her during office family dinner parties. But it was because of this crush that we kept food on the table, so I didn't complain out loud.

While Avery was busy with modeling and my mom with getting coffee and answering telephones, I was committed to school and running. School, because my ability to learn fast and the ease of every subject had my mom convinced I could get a scholarship to go to college, and running because it was an escape. An escape from the heaviness of my thoughts and pressures of my life. When I would run, the whole world would quiet down. All that was left was the steady sound of my breathing and the blood pumping in my ears. Running was simple when life was not. It kept me in shape and helped me stay focused. It helped keep me sane.

Sometimes I would dream about my dad. He would be throwing me a football or tickling me on the couch, always in that old, beat up Yankees hat he would wear. He didn't bring it with him when he left, and I still had that hat and I would wear it a lot. I also still had the necklace he gave me on my fourth birthday. It was a real gold heart, with a sapphire jewel in the middle, and one single diamond at the bottom. It was the only piece of real jewelry I had and I never took it off. But, just like my feelings about everything that had happened with him, I would hide it under my clothes so my mom wouldn't see.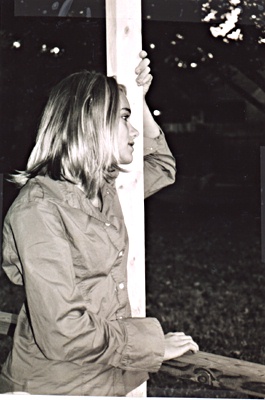 © Tiffany A., Southaven, MS