A Beautiful Struggle
February 1, 2011
The grubby charcoal tires screeched to a halt proclaiming my departure from another day at the dreaded middle school.

"It seems to be yo neighborhood got some construction…gotta drop you off
dis new place," the bus driver mumbled through her slender lips.
The earth cried that day. The rhythmic droplets that kissed the earth were like the waterfalls of the Niagara, an incessant flow of water. Lord Kronus, God of Earth, must have been troubled.

The bus driver cackled sarcastically, as saliva shot through her mouth and
landed precisely on my cheekbones, "hope you 'ave a safe walk."
The unfamiliar setting troubled me—and the vast sheets of droplets that encircled my physique had only augmented my fear. It felt as if I was in a grim world, one that I was foreign in, and one that foreshadowed a catastrophic end.
Abruptly, a massive car lingered behind me. It was accompanied by a dark soul, his red sockets penetrated through my body, evaluating my every move. Lord Hades, God of the Underworld was merciless, and his puncturing gaze spoke with a yearning for my soul.

"Young mortal, do not fear, why don't you accompany me and my lovely
friends in my ride," he whispered through his thin lips, sly as ever.
I glanced back and saw a woman with coils of ringlets like snakes sprouting from her scalp. Madusa's wry grin illuminated peril; it spoke with a longing to fulfill her duty.
I could see the relationship between these two vicious spirits—Lord Hades was the instigator, the man on a mission, Madusa was only a mere doll that he teased with for pleasure.

"You are quite pretty with those jeans my dear, come in my car so I can have
a better look at you," The Dark Lord taunted with the same cunning grin that
he was so notorious for.
At his words, I bolted. I ran faster than a serial killer on the loose. I was a continuous wind suspended in time; no archetypal God could rival the rush of momentum I had on land. Despite my brilliance on the terrain, the God of the Underworld had surpassed my expectations.

"Do not fear beautiful, I just want to have a little fun, I won't hurt you
darling," he said softly.
However, I knew the Lord's greater purpose: to cast the Titan's Curse upon me. The Evil Spell promised to dispose my memory of my family and friends; my life would have very little meaning. He would strip me of my freedoms to the bone, until I was bare and destitute. I would be his slave for eternity, just another puppet that he trifled with when he desired, another addition to his refined collection of toys.
The Dark Lord was gradually inching closer, as if he was the predator that strategically sought out his prey.

"Do not go, I am incapable of hurting you, I promise you that," he spoke
these words so delicately, yet I could only hear the lies which shot out of his
mouth and reverberated throughout the earth.
I trampled along a desolate passage which no car could squeeze through. Protection had poured throughout my veins. But, a larger issue arose: I was now lost. Fortunately, with the help of Ariadne's Thread, I would journey along the right path.
I approached a familiar hill covered entirely by a blanket of leaves. Each step I took the grinding of plants echoed throughout the land; I became in sync with Mother Nature.
Gradually I became aware that my stride did not correspond with the crackling of leaves. Hesitantly, I gently turned my head and saw my greatest fear. In that instant, time had stopped. Life had frozen. In that moment, I stared at the red sockets that I knew too well. Somehow, Lord Hades alone had followed me.

"Now, there's no need for running babe. You just need to calm down my
love," he murmured, as a smile played on his lips.
We played tag again. I could see that Lord Hades wanted to win, wanted the grand prize—me. From a distance, I saw the scarlet roof that I was instantly familiar with: Half-Blood Hill. My sanctuary illuminated protection, safety, escape. These were all the elements I needed to stay alive.
As I struggled to accelerate my speed, Lord Hades continued to increase his pace with ease. The knobs of my knees were wobbling furiously. My face was drowning of color. My heart was jumping out of my chest. Pandora's Box was rumbling in my hands dying for me to expose it, all bad things were about to begin.

"Don't you want to meet my great friends in the car? I know they're dying to
meet you," he muttered these words so genuinely, but all I could hear was
the malicious intentions behind his false words.
Some way, somehow, I managed to escape the clutches of Lord Hades. I reached my final destination. I jostled for my keys in my purse and unlocked the doors of Half-Blood Hill. I sealed all the doors, shut all the curtains, and prayed for safety. I knew that Lord Hades could not penetrate through my gates because of the shield that my home emitted. But even Lord Hades had means to obtain his greatest desires.

"Come on, I promise I won't hurt you sweetie, I just want to play, I just want
to have a little fun," he barked from outside.
I dashed upstairs. Miraculously, Lord Hades managed to pass through the invisible shield. He used his hands on my door knob as if he were working on an extensive project. His fingers performed meticulously, operating to expose my home. I tolerated twenty agonizing minutes patiently awaiting his departure. He finally abandoned my home, surrendering completely.

The aggressive streams of rain that poured that day and the waterfalls of the Niagara blended as one, could not rival the everlasting shower of tears that blasted from my eyes and burdened my heart.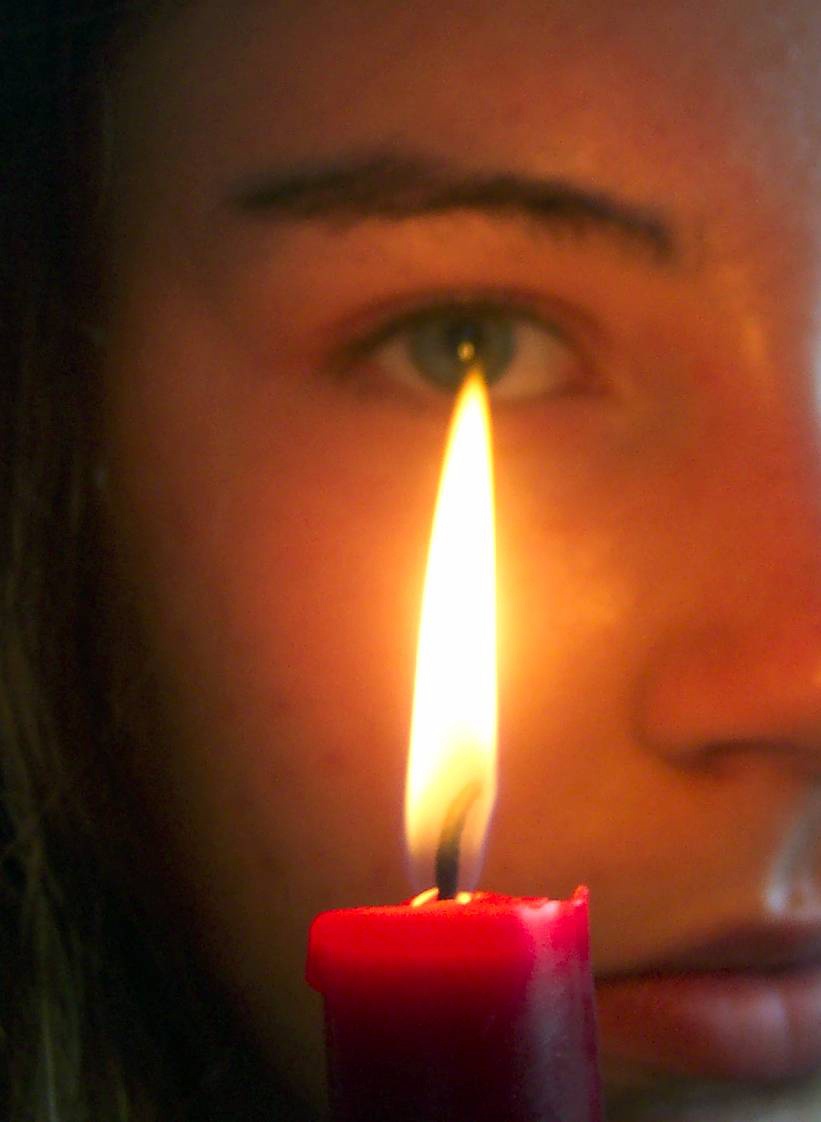 © Elise S., Clarksville, MD