Post-Departure
January 27, 2011
You left today. At some point this morning, you flipped open your cell phone and glanced at the time and realized that moving van would be taking its place in front of your home. The only home you'd ever known. You stood up sleepily, your eyes only held open by copious amounts of caffeine, the lure of video games, and the knowledge that you would never again sit with these people in this context. Never again would they hear your name and go, "Oh, yeah! He's my neighbor!" This seemed like a trivial thing, but, for some reason, it's highly important to you. Your eyes skimmed over them, him, your best friend, and her, something else, as if it would be the very last time.

I don't know what went on while you three stayed up, each of you individually counting down to the same single moment. But I know you, and him, and I certainly know her. So it probably wasn't tearful or intimate or anything more than a normal goodbye. On the surface. She likes to hide her emotions and he feigns strength. As for you, you've become accustomed to this inevitable fact, due to pushed back dates that made it all the harder for everyone else. I can only imagine what happened at the end of that unofficial vigil. Maybe there were quick hugs, manly in nature, of course, or welled tears that certainly never fell, or the promise to text, call, facebook message. And the passage of a gift, makeshift and so very her. When she told me about it, she had laughed because you said you planned to cut through the layers of tape with a knife. "Don't open it 'til you get there," she'd murmured. You broke that promise, but she didn't mind. She probably knew you would. This is always how she says her goodbyes. Notes shoved into suitcases the night before departure, spiral-bound notebooks filled to the brim with her little jokes and sarcasms placed near sleeping bodies, a heart wrapped thickly in newspaper and duct tape (colored, of course) if only to keep it guarded.

You left today, and she was different because of it. She sat next to me in the car, that purple cell phone clutched in hand, telling me word for word exactly what you sent her. She laughed about things that would've been funny, but really weren't. Complained about things that hurt her just like they would've hurt you. I listened, tried to imagine what it was like to be her in that moment, and couldn't. Then, she sat in my room with me and completed her homework. You know as well as I do that this girl likes to be alone. But she couldn't.

You open her gift in a car, some unspecified distance from where you belong, trailing across a road with a man you only kind of like, to find a note which she says you found creepy. But I know that can't be true and I can't help but imagine what it was she wrote you.

Maybe it hasn't set in for the both of you yet. I'm not really sure. But since I, and anyone else with eyes, realize something you and she can't, I know someday it will. She misses you already, but she doesn't want to. Even if what everyone knows isn't true, you've still always been a constant in her life. A neighbor, classmate, nuisance, best friend, for as long as either of you can remember.

It's hard to think of you being anywhere else beside that white house across the street or over at the school messing around with him and your friends or taking up the majority of our living room couch. She'll miss you telling her to dump her boyfriend and being alphabetically next to her in class and hanging around our house all the time and always sticking up for her.

You're not her world. She was raised much to realistically to believe that. But there's not doubt you're a big part of it. You left today, but you'll probably stay with her forever. When he's playing video games with his friends or when she's trekking home from school or whenever she looks at that big, white, empty house across the street. The one that a moving van abandoned hours ago.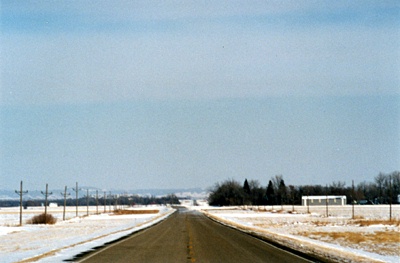 © Cole D., Willow City, ND