Every Inch
January 15, 2011
We pulled into the endless, rocky, tree canopied, driveway. The snow covered the nature like a fine breath fogging up a window. I sighed. This was the last thing I would ever want to do. Ever. I don't know when the reality actually hit me, maybe when I tried to make a call to Cassie to tell her that I was alive and got no signal. Or maybe as our black, beat–up, Ford passed the tarnished road sign pointing into the shop. The shop; my home.

It almost seemed like a year ago when my dad had busted threw the living room door, an unreadable expression in his hard, green eyes. He had said that his boss had never wanted to let him go but he had made that decision, and it had crushed my dad like a little boy torn away from his favorite toy. My dad lived at the office, always on a business call or organizing paper. I got used to it, after a while, but it hurt me to see him so far away when he was so close. He had announced the news to us as my mom rushed over to him, cradling him like a young child. But he grew stronger, eventually. And when that did happen he decided that it was time to move. That is why I am in this deplorable position.

"Almost there, trust me this will be a better life Harlow, " My father said turning his head towards me. "Yeah, whatever" I muttered to myself, still staring out the window. Why did this happen to me, why couldn't it happen to Angela or even Meg? Sometimes life really isn't all that it is cocked up to be. I turned my head, gasping for something better to happen. My younger sister, Annice held my hand. At only eight years old, she knew about everything that was happening. I gently squeezed her soft, fragile hand. "It's going to be ok" she whispered, her little green eyes completely opposite of my dads hard, eyes, hers where beautiful, blooming, full of life. "I know sweetie," I said taking her other hand and kissing it. She smiled at me, then pet her stuffed animal hippo on her lap.

When she found out we were moving, she automatically ran into our room, grabbed the suitcase from underneath my old wood bed and thrust all of her stuffed animals into it. She didn't really care what was happening, as long as she had her animals she was fine. I turned back and looked outside. I felt as though we were moving to the complete opposite end of the world, where no one goes. It's just a lonely world here I thought to myself.

The trees above the compact car, hunched over from the weight of the silk, snow. They were tired, and ready for change, unlike me. Their gaunt branches, skinny like the fine whiskers on a little cat, lay hanging in the winter snowfall, silent. Ahh, to be free in the world, no one telling you what to do, just growing, changing, and living. I desire that.

My mother was sitting in the passenger seat, keeping an eye on us. She had that make-the-best-out-of-it look in her pale, wrinkly face. I breathed, looked, and then smiled at her. I knew she didn't want to move either, being already to far away from her elderly parents. But just like the rest of us, she wanted dad to be happy. The driveway is just so long, to long. I see all of the gleeful, carefree, untroubled memories out the thin, glass window. Every inch a new memory, every inch a good-bye.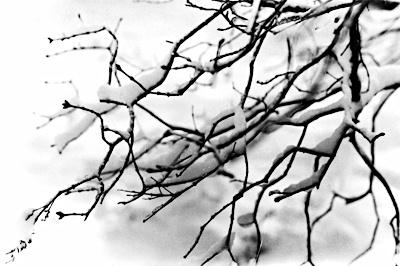 © Lindsey D., Marblehead, MA