Dear Father
January 6, 2011
Dear Father,


When I was a little girl, you were my hero. I thought you were invincible, even stronger than all the action figures the boys collected. I played with Barbie dolls and the limited edition Barbie was my favorite because you bought it for me when I turned seven. The color of her clothes faded, her synthetic hair tangled, and the plastic aged, but I kept her by my nightstand anyways just so I can think of you. We used to go to the park together on Sundays to feed the ducks. I don't ever want to lose that photo, because I'm worried that I might forget the dimple in your cheek and the twinkle in your eyes when you smiled.


When I turned eight, you bought me stuffed animals and electronic toys, but I never kept them because they didn't mean anything to me. One day, you told Mother that we were going to the park, but you took me to a children's store instead. Don't you remember? I could pick out any toy I wanted as long I kept my mouth shut. It sounded almost too good to be real, but I was a kid and didn't know any better. I picked out Hello Kitty stickers, Clifford the Big Red Dog coloring books, and a huge teddy bear that sang every time I squeezed its paw. I could hardly reach the counter, but I knew you paid without hesitation. It wasn't my birthday and I knew it was too sunny to be Christmas, but I never asked because I was afraid you would stop buying me new things. I named the teddy bear "Arnold" and held him under my arm, grinning with excitement as I walked out the store. You held my hand and led the way, convincing me that we were going someplace magical.


It was huge and dark and the lights shone like stars, but it looked anything but magical. Men gathered around tables, cursing and cheering. You were the loudest of them all. You reached into your pocket and pulled out a pack of cigarettes. I thought you told us, Mother and I, that you quit smoking years ago. My eyes widened as I watched the men slam dollar bills, so much cash that I could've gotten everything in the entire store. You paid for an overpriced hotdog at $3.75 and left me at the stand. I finished my lunch, but you didn't come back yet. I hugged Arnold tighter, trying to blink back tears. Eventually, I found you, but I also lost you. After that, you kept forgetting to pick me up after school and the principal had to bring me to the police station. I wanted to trust you, I really did. You told me that you bought crayons so I could color Clifford, but when I reached into the pocket of your coat, it was a pack of cigarettes I found. You clamped a hand over my mouth and hushed me not to say a word to Mother. I whimpered and tears ran down my cheeks. Mother heard from the other room and asked if something was wrong. You threatened to beat me if I told her the truth. Something flashed across your eyes, but I couldn't recognize it. It was a combination of anger and hatred and guilt all mixed into the iris of dark brown. I never trusted you after that.


Now you're in the hospital, because all the cigarettes finally got to your lungs. Mother divorced you because she said you weren't the man she wanted to marry. You're all alone, lying in your bed with no visitors that care enough to bring you flowers or cards. Your weary eyes don't reflect emotion and your lighthearted laughter is replaced by your chronic coughing. When I was a baby, you and Mother decided to invest in my future, so you two worked hard to deposit money into my savings account. So where's my future now? It's empty because you gambled and lost everything. Sometimes I wonder about what I want to do with my life, whether or not I could afford college or university after high school. I donated all the other toys you bought me to a local orphanage, because that was your way of showing your love and I thought those children needed some love in the world. I remember how mad I was, when I grew up and realized what you did. You were no hero; it was just an illusion in my mind. I wanted to believe you were the good guy, but I couldn't lie to myself. I also wanted to hate you, but I couldn't do that either. My heart ached too much and I knew that despite your flaws, I loved you.

I just wanted to know one thing. Was it worth it?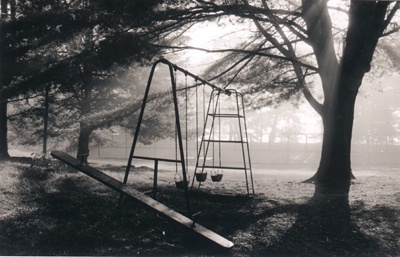 © Steve S., Marblehead, MA