Realization
December 19, 2010
When grandma began to experience severe pains from the arthritis in her hip, she had exercises we had to help her with, and we went on walks so she can get fresh air. During those walks, we either said nothing, or had a small conversation about things I thought weren't important because now these days, she's kind of losing her mind.

All through the walks and the times I had to count her leg lifts, grandma would tell me how generous or kind I was to help her. Sometimes she would tell me about her painful experiences in World War II back in China. She would say sometimes she had to hide with her school if there were any bomb threats. I can't imagine how she felt. But when I often returned to her room, she would tell me how grateful I was to her as a granddaughter. I never really thought about it differently, just a simple comment, so I would smile and simply say, "Thanks grandma."


Often my siblings and I would fuss about whose turn it was to walk grandma; this made me think we were treating her like a dog that needed walking. I didn't like it, so I would occasionally interrupt the arguing, and blurt, "I'll do it". I mean I never had anything better to do. Helping her was better than doing homework or watching TV.

Dad constantly reminded us, "We need to convince grandma to come out of her room. It's too dusty and dark for her to stay in there all day." And he's right. That's why dad made a schedule for us to either walk grandma or to help her with her exercises. First child Monday, second child Wednesday, third child Friday, and whatever child's willing to walk grandma on Saturdays or Sundays, who was usually me. The schedule rotated so every new week we slated for a different day.


Walking grandma is not the most pleasant pastime, especially when she would tells her cautionary tales. Every time the tales would be changed a bit. I remember one she told me constantly, not to let men take advantage of me, usually it would start off by, "Ah, Anna you know grandma wants you to know…" with shaking her gnarled hands, using her always high pitched, sweet, and in second person 'chinglish', to get my attention, but I would have to listen closely to what she was trying to say. "Do not make the mistake of letting men take advantage of you. Don't choose some guy that is going to yell, like your father," she would pause to moisten her thin lips, and then say, "You know what grandma's talking about?" At the same time she would give me a wrinkly, kind of worried grandmotherly look. "Yeah grandma." I would say, and continued walking along side her. "I won't let them." I watch her feet shuffle along the rocky road.

One night, my mom said to me, "Anna you have more patience than Eric and
Lucie combined with helping grandma, and you've been so good given all the stress she creates. You're so nice." Later on I thought about all of what grandma had said, then I finally realized where she was getting at when she was saying all of those compliments. It tied together now and made sense. I am too nice, too patient and I believe that it's my job; now it's my 'good weakness', to make someone smile.

Today, I think that siblings sometimes take advantage of my generosity; but my mom always says to them, "If Anna and you guys were stuck on a desert island, Anna would be the first one to die. She would make sure you were all fed." I think it's funny the way my mom makes them feel bad and I now realize that helping grandma was not just a chore, it was an experience that helped me realize an important part for what makes me, me.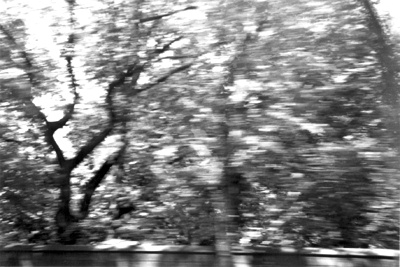 © Sarah M., Phoenix, AZ