EFY- Year One: A Talk given in church
November 30, 2010
"Be thou an example of the believers, in faith, in word, in conversation, in charity, in spirit, in faith, in purity." The scripture I just recited, 1st Timothy 4:12, was the theme of this year's Especially For Youth (also known as EFY). It is also the theme of my talk today.
From August 3rd to August 7th of this year, I attended EFY at Brigham Young University with much skepticism upon entering. In the beginning, I had no idea what the program entailed. As I stood in line on that hot summer day, picking up the materials I would need for the week, my eyes rested on a small orange book. On the cover of this book read the first few words of 1st Timothy 4:12; "Be Thou an Example." At that moment, all that that phrase seemed to be in my mind was a silly little scripture that some silly little church camp chose to represent them. I had no idea the impact that it would later have on me.
I met my new dorm mates that seemed to be a lot like me; they were my age, and they were energetic, but most of all they seemed doubtful about what the church was teaching them (a feeling I understood greatly). We as a group then met the girls of the group, all of whom were amazing! One sticks out in my mind as one who later touched my spirit on an enormous level. Her name was Emma. She was a convert of six months and had a testimony that was stronger and larger than most lifetime members I have met. She was full of energy and was clearly enthused about being at this event and learning more about the gospel. I was secretly a little envious of that energy, wishing I could possess it myself.
We went to an introduction by Session Director Liz Craig, a remarkable woman who was about 6-foot 4 WITHOUT her high heels. She introduced the counselors and expressed her excitement for the upcoming week.
The next day, we got up at around 6:30 in the morning to study the scriptures. My counselor advised us to pray about what we should read before we read. So, I said a silent prayer in my head; a prayer about a friend of mine who has converted to atheism recently. With the help of the topical guide, I found many scriptures on the topic of unbelief. This made me feel odd, like some empty space had been partially filled within me. This was the first time I had ever studied the scriptures with pure intent.
That day we went to a morning side given by Sister Craig, and classes by Brother Dan Potter and Tal Ehlers. The general topic of the day seemed to be loving the savior and praying often.
There was one morning side where Sister Craig asked the counselors to come up and share stories of times when they had to stand and be examples of the believers in faith. One of the girls named Jessica stood and recounted to us that at 12 years old, she refused to play at a softball game, and three other friends of hers stood and stuck up for her, refusing to play the game as well. This left her team two players short, the result being that they could not play at the district finals. Jessica was then blacklisted and didn't play softball for three years. Three years later, when Jessica was watching a softball game, her former coach came up to her and told her that because of Jessica standing up for her beliefs, the coach had looked into the teachings of the church and had investigated them. She and her husband had been baptized and were going to be sealed in the temple that week.
That story spoke to me. Many others like that were shared, some light-hearted and some a little more solemn. There was one about NFL quarterback Steve Young, who was an active member that followed the standards carefully. One day at practice, as the other players were cursing and using vulgar and crude language, Steve dropped the ball and uttered the phrase, "Dang it." The others looked at him in confusion. They tried to get him to swear if but once the entire practice. He boldly refused. Later at a party, the players were opening beers and they threw one to Steve. He caught it and set it down on the table, declaring that he didn't drink alcohol. Completely bewildered, they asked him what he DID drink. He said that he would have a Sprite. So, for the next little while, whenever a party came along, someone would point over to a 12-pack of Sprite and say, "Young, gotcha covered." One day, Steve finally said to one of them, "Hey, I really like what you've been doing for me, but I can drink other kinds of soda." The man promised that he would get him something different. So as Steve came into the party, he looked into the corner where his drink was and saw that instead of Sprite, the players had gotten him a 12-pack of 7up.
It's small stands like these that can strengthen us as members and as examples of the Believers in faith and purity. There is one experience that I wish to share with you. This is the story of the night that the gospel of Christ changed me as a person. The night: August 6th, 2009.

"Today, I woke up depressed. I was sad almost all day. And with the sadness came doubt; doubt about the church, the gospel and even the existence of God himself. I imagine that, at one time or another, EVERY LDS teen has had these doubts. But I felt bad, 'cause I was at a church camp and was having these doubts. Now, there was this musical program we had to go to at which there would be a choir of some of the youth singing hymns. So, I didn't want to go, because I was in a bad mood…
I'M SO GLAD I HAD TO GO!
I have NEVER felt the spirit as strongly as I did during that! When we all stood up and sang our EFY medley, the beauty, power, and majesty of the song of over 1000 kids was overwhelming! For the first time in a long time, I felt true spiritual joy in my soul. After the music, a few of us went into one of the classrooms in the university and bore our testimonies. I bore mine for the first time in A YEAR AND A HALF!!! And after that, I felt a sense of joy that moved me to tears. As I listened to the testimonies of over 50 other youth, I knew for the first time in my life that without a shadow of a doubt that the Church of Jesus Christ of Latter-Day Saints is 100% true in every way. This was truly the best day of my life!"
Nothing like that musical program and the testimony meeting that followed has ever touched me like that. Nothing has ever moved me to tears like that did. I remember looking around to see that many of the kids in the room, including my cousin Daxton were bawling openly. Right then, I was breathless. Few things in this life have ever taken my breath away…
The next day, I saw Sister Craig as I was going to get lunch (which by the way was a completely frozen peanut butter sandwich that I gave to the guys for a game of keep away). I walked over to her and I said, "Liz, I want to thank you." She asked me why, and I said to her, "Because EFY has restored my testimony completely. This week, especially last night, changed my life." And at that, I thankfully hugged that 6 foot 4 inch woman.
Now I was browsing through the scriptures when I noticed that Jude 1:21-22 could be followed by 1st Timothy 4:12 to create a combination that every one of us should follow. These three verses combined read:
"Keep yourselves in the love of God, looking for the mercy of our Lord Jesus Christ into eternal life. And of some have compassion, making a difference: Be thou an example of the believers. In word, in conversation, in charity, in spirit, in faith, in purity."
Brothers and Sisters, that is how we as believers can be examples. We can all be guided by charity and compassion if we have the desire and faith to do so. And with charity and compassion, we can have the strength to take a stand for our beliefs and be an example of the believers. I bear testimony to you that this church is the true word of God and that I know that my redeemer lives and loves us. I bear testimony that if we can become converted to this gospel and stand as an example of it, we will be blessed with happiness and love. And I say these things in the name of Jesus Christ, Amen.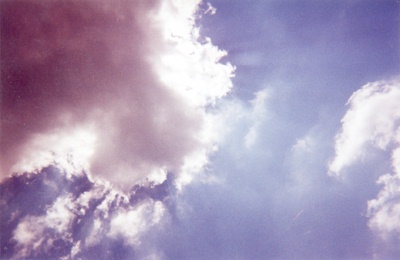 © Kena A., Huntsville, AL