Catching Stars
November 30, 2010
As I flip on the flashlight, adrenaline pumps threw my veins, and up my arms, and fingers, like rivers of flowing water. The beam of light shines up the room with its promising guidance, an arrow pointing forward. I tug hard on the handle attached to the firm glass door. It opens with a low moan. I make sure May, my best friend since first grade is behind me; she is. We continue on and the rest file out after her.
Arms stuffed with wool blankets, shirts in layers, sweatshirts covering them like a shield, are timed in footsteps. They march in sweet cadence in the dark. I make notice to turn the porch light on before we leave though, so that we can find our way back through the path.
The chilled air climbs my bare legs and hands. It is very chilly. May must feel it too because she shivers at the low temperature. I turn to see her face twisted now with cold. I giggle as the wind picks up its dance around us, trapping us in. We step down the hard, stone, rock steps. It takes us to the hard, Earth ground.
Yelps are heard when we cross the land filled with acorns, as our bare feet are being wounded. Finally I know I am there because of the sound of feet sauntering across the ridged dock. I smile at this particulary moment.
After we are all down on the dock, blankets are laid down, their owners crumbling like walls on top of them. We are all settled when I take in our opponent. Ghostly dark looks back at us. I can feel its stare along my face, taking in every detail. It's quiet enough now that if you listen closely you can hear the waters argument with the rocks. Violently crashing waves against the enemy. I can barely make out a hand shot up in the air, then voices. The talking gets louder and louder, until I can hear what the large commotion is about. "Look there they are! Oh my! And I see them!" Are surrounding the deck now like a giant tornado, spinning around.
I glance up at the black, but it's not just black now. Tiny diamonds are merging in. Like in the books, they twinkle and shine. It's much more fascinating and beautiful in person though. Smiles are plastered around me now, all over people's faces. The feeling inside of me is overwhelming. It cannot be described in words. As I am gazing up at the show, I make just one wish. My hands blast up in the cool night's air and I wonder what it would be like catching stars.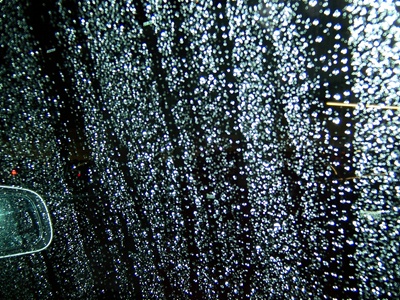 © Jessica L., San Jose, CA