More then words
November 28, 2010
His gaze pierces my strong facade, and his tender hands cup the sides of my face. "I absolutely love you" he whispers. His eyes searching mine for reassurance. Desperately shifting from right to left, almost like his life hangs in my response.

All I can do is look down to keep him from seeing the glacial pools forming in my eyes. My head bows under buildup caused by emotions and logic colliding. I nod my head in defeat. I don't trust my quivering vocal cords yet. A nod is all I could muster.

"No," He need more then what I gave. He lifts my chin back up to eye level. The perfect shade of blue and two brown spots of his eyes capture and hold my gaze. I see the look of anguish retreating "if you mean it say it out loud" I have known my answer since the very beginning. The healthy choice has never been my first. He has all of me right now. The kindness in his eyes isn't his only persuasion. Just a corner of his mouth turned up in that perfect smile, that I've only ever seen him give me, is all it takes to forget everything that has ever tried to counter my love for this man. "Do you love me?"

I found my voice in an instant "you have no idea." I grab the back of his head as he reaches to pull my face closer to his own. Our mouths mold in a kiss that is tainted with shot nerves and forlorn apprehension. But for now this is all that that we can see.

Thank god for blind love.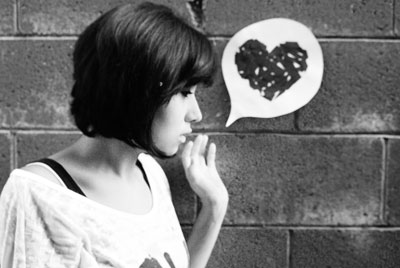 © Michelle B., West Covina, CA