Putting Together the Puzzle Pieces
December 16, 2010
My grandmother always had a statement she was known for. The statement had all of the adults nodding their heads in agreement and an expression on their faces that I could never figure out in the past few years. Were they mourning, confused, or reflecting on life itself? The famous saying my Grandma recites is: Life is one huge jigsaw puzzle.

The waves were sea green and shimmering. The sound of the waves crashing sang a melody. Each wave came one by one in a rhythm. The ocean rhythm rang in my ear.

I was in Branford, CT. My family owns a beach house there. Every summer we spend the whole month of August in Branford. Let me tell you, it is real beach living. Lindon Beach is my summer sanctuary. My friend, Claire, and I spend each waking moment at that beach. The steep rocks are coated with seaweed. At the top of the rocks stands a diving board. Yes, a diving board into the ocean.

Suddenly, without thinking, my feet stride in their normal routine to the diving board. The rocks were rough and rigid but I couldn't feel a thing. The soles of my feet were like thick leather. When I got to the end of the diving board I glare at my sun-kissed feet still wet from swimming. My blue nail polished toes dangled from the white and abused diving board.

Automatically my mind lingers to Indian Neck Day. The image was so clear and vivid: a small white beach, a mass of people, boisterous band blaring music, people dancing and singing along. All of them in shorts and a t-shirt or their bathing suit, not caring what they look like. My whole group of friends and I were dancing and singing with everybody. The feeling of community warmed my heart. The smiles and bursts of laughter from friends and neighbors lit up the night. I wondered, what could be better?

At one moment I could hear the live band, but the next moment I could almost smell the familiar aroma of hotdogs and burgers. Next the vision of summer cookouts came into play. Cookouts were the official sign of summer. Each cookout was different. It was like a complete package of compelling conversations, funny stories, and if the adults were lucky all of the kids would provide some specialty entertainment. When I go to family cookouts I spend most of my time with mini, berserk, and fun loving things. They are called little kids. I like to call them "the youngsters". They have an amazing amount of energy and are just a good time. The summer cookout meant time for us to hang out with that "fun-sized" gang.

The "youngsters", I thought, what would summer be without them? I bounced a couple times on the diving board but before I had time to jump my mind got distracted. It linked to another memory, the summer play. Claire, a neighbor in Branford, and I are inseparable. One of the reasons is because we can't stop thinking about creativity. We both adore music so we decided it would be enjoyable if we put on a summer production. We titled it Once Upon a Fairytale. I embraced the sight of seeing little kids dressed up as fairytale creatures. It was hilarious! I could almost smell the hard work and dedication that these kids had. Don't get me wrong, we joked around plenty. It's amazing how this little experience made me love life even more.

I gaze into the summer sky, the beautiful summer sky. My thoughts re-winded to the fourth of July…the fireworks. My mind jumped to the picture of the night of the fireworks. On the that night I rode my bike with my hair up in a ponytail. The summer breeze went through me filling me with even more exhilaration. It was the night everyone has been talking about, for it was the night if the fireworks. Now my head was on the verge of exploding because of all the anxiousness. I pedaled even faster to get a seat and meet up with Claire before it got to crowded. I pulled over at the beach and I had seen Claire waving me over. I sat down ready for the show to start. My eyes widened at the phenomenal neon colors and the piecing noise. That memory slowly, but surely, drifted away.

SPLASH! Before I knew it I was coming up from underwater. The diving board was still springing up then down, and up then down again. Once I come up from underwater the hot summer sun is beating on me. It was the end of summer. It was the tail end of the spontaneous extravaganza, but I couldn't help it when a beam crept across my face. At that moment I had finally had realized what my grandma has been saying for all of these years. I finally put the pieces of summer together.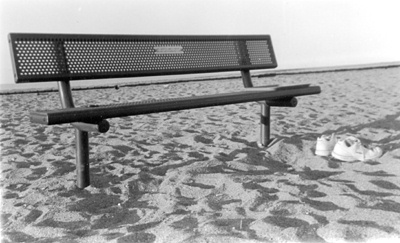 © Jenna H., Marblehead, MA