Capsizing the Hunter
December 16, 2010
"Hey Andrew let's go get everybody to meet us down by the dock," announced Teddy. I darted towards my bunk, feet slapping the ground over the brush and the immense tree roots sprouting up. I felt like a superstar dodging branches and gravel every which way. The gravel flew up and pelted me in the back. When I finally arrived after what seemed like an enduring journey I fetched Dan, Ethan, John, and James to accompany Teddy and me on our Hunter (sailboat) ride. We waited our turn in the queue when the boat director asked
"How many and for what boat?" Teddy, being the ring leader, quickly remarked
"Six for the Hunter." The director uttered
"I don't want any adolescent hoarse play out in the water or there will be severe consequences." All in unison we barked
"Yes sir, we understand." Our plan secretly was to capsize the Hunter and escape without any punishment. One tiny inconvenience was that Teddy was the only one with any proper sailing experience.


The Boston Big Whaler (charter boat to sailing mores) fired up and we all piled in like swine. Thinking to myself I knew it would be one bumpy ride. Eventually we approached the Hunter and boarded in. We were rigged up and sailing in approximately two minutes. But the boat director was eyeing us all keenly, as though we were his cubs and he was the mother bear waiting for our group to screw up. Did he really not trust us that much and that look was truly uncalled for. John occasionally added,
"When are we going to flip this stupid boat?" Teddy would always reply with the same answer
"Wait until the boat director heads in with his watch boat." Oddly enough he started to head in right after the conversation. The boat was now hiking tremendously. I grasped the mainsheet and reeled it in to travel at maximum speed across the glassy water. It felt so perfect I could feel the splashing water lick my face and the picturesque view. The Hunter began to lean on a forty five degree angle. I was on the high side. I felt uneasy as the ship was almost horizontal to the water. I wondered how fearful Jon and Dan must have been touching the water on the low side. As I slowly began to remember the main objective on capsizing I hindered to myself how there was only one turn out for our plan, we would surely get caught. This idea seemed so hebetudinous. On command, Teddy screeched
"This is it!" Teddy tacked sharply to the right and sure enough the Hunter was beginning to flip.

The Hunter's sail was falling on me rapidly.
I had to swim out to avoid suffocating. First I would try with my life preserver on. Worst case scenario I would have to unbuckle it and swim underwater to the other cusp of the sail. I could picture myself a few years earlier when I was ten. Having a blast sailing with companions, not really knowing what danger really was. I was so innocent and pure. Thank god though I got out and from being submerged under the sail without bailing on my life jacket. After, we waited in the icy murky lake water awaiting further instructions from Teddy. We didn't rehearse this part before leaving us virtually clueless. Soon enough he proclaimed
"John and James you go around back and lean on the dagger board to flip the boat back upright to its natural position." The two of them paddled and flailed around back the other size and flipped the boat back upright. After we all ascended back into the boat and double checked to make sure that we didn't break anything. We sailed back to Camp Takajo, it was like we never even capsized the Hunter. Just as we assumed that we were in the clear the boat director came rushing toward us in his watch boat with great velocity. He screamed at the top of his lungs
"Bob Lewis the head of the waterfront is awaiting your arrival at the dock and is already preparing your punishment." As Teddy always said,
"Don't do the crime if you can't do the time." We miserably sailed in with gloomy faces and derigged the Hunter. After we got picked up by the Big Whaler and drove on in to the dock. Sure enough big plump Bob Lewis was pacing around talking to himself like a schizophrenic. His voice boomed louder than a rocket launch
"You guys could've killed yourselves and damaged a five thousand dollar boat…" He went on an on for about an hour. He finally and abruptly ended with saying you all will be woken up at 4:50 am to scrub all the docks and a one week waterfront suspension. We could deal with this punishment. We were as tough as nails. But a one week waterfront suspension for first time offenders still seemed like an unorthodox punishment. Why do friends always seem to get into trouble? After marching back to our cabin with our sour puss faces and when we were all alone Teddy whispered
"Wasn't that worth it?" We all began to laugh hysterically. Camp was a life altering experience, where boys had to be boys. We should all go outside of the box and break the rules in moderation if it means making memories and having a good time with your friends. From that time on, every time I ran around camp to get from point A to point B, I felt as though I was darting back to my bunk to fetch my friends to go on that extraordinary Hunter ride.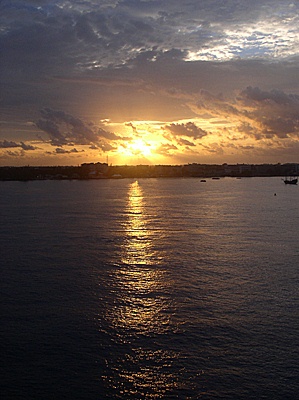 © Rebecca Y., Los Angeles, CA