My Hunting Adventure
November 18, 2010
I decided to go squirrel hunting. This choice was significant for me because I discovered that I greatly enjoy this hobby. Also it's fun to enjoy the awesome nature, the long walks and shooting firearms.

Whenever my uncles come over to get me, I always have that exciting feeling that I'm free to go wherever and do whatever. It feels like I have a day off of school and it's true. When we get to our destination I have that same reaction but even better because were there. So after prepping and walking into the woods, we all split up and find a spot to sit and watch for any squirrels that may come by. When sitting for a long time I can hear a squirrel running on the ground or digging a hole once I see it and I know it's there then my heart starts to pound and you can hear it thump. Then I get excited and I move to much; as a result the squirrel runs away. Then I star to swear that it run away or then it runs to me then KA-BOOM I get it. If you don't get it I feel like I'm are going to kill myself self because I didn't get it. So after a several hours we all head back to eat lunch and tell our stories about the five-six hour hunt. So after eating lunch for about thirty minutes, we all head back to our same spots or go to a new sitting spot. After getting a few more squirrels we all head back to the car. We all had a long day of hunting. We arrive at the car and throw all our gear in the trunk. Meanwhile driving home, we all feel that happy, yet sad and mad moment about or hunt and tell it to one another.

In conclusion, Squirrel hunting is a passion, a hobby, that is the best. I will do this hobby forever. I also will be still learning from my dad and uncles on how to hunt silently.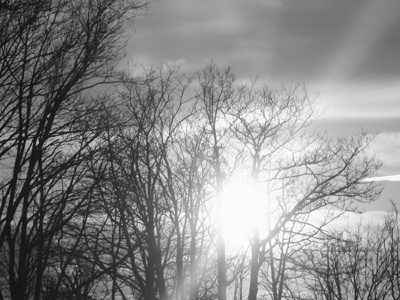 © Emma C., Gardner, MA