A Survivance Cousin
November 15, 2010
My cousin Jesus was in a very dangerous car accident. He was 2 years old. He was a little kid and he survived this accident.

He was so excited because his mom gave him 1 dollar to go to the store with my grandma to buy whatever he wanted. So there they went crossing the street to get to the store. Once they got there, my cousin got some Cheetos and once that he paid for them, he started crying and said that he didn't want to leave because something bad could happen. So my grandma opened the Cheetos for him so that he could stop crying and pretty soon he forgot about his feelings.

So when he stopped crying they headed home. My grandma saw that there was a truck that didn't have control but she ignored because she didn't think that it would get to hit them, but eventually it did. Next thing my cousin knew was that he was on the floor, under a truck, and not knowing who the people around him were. He didn't know who my auntie was.My auntie got so scared that she went in that same truck that ran over my cousin's head to the hospital. When he left that place where he was got ran over, is seemed as if a tomato or two got squashed because there was a whole lot of blood on the ground.When they got to the hospital my cousin was right away taken into a room.

They doctors said that he might take a while for him to get to know people good again and to be able to speak good. It's been 10 years now and he's now speaking good and now knows everyone in school and everyone in the family. Until now everything has gone pretty good with him and with his learning. It is like as if he has a memory as good as a dolphins because they have a very good memory and so does he.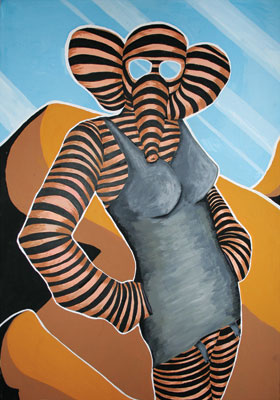 © Tiffany E., Auburn, AL