My Molder
November 8, 2010
Now days, spanking, beatings, and any form of physical discipline are frowned upon when raising children. We should care for our kids, and only show love. Eighteen years ago, that wasn't the case. Other families weren't always aware of how others were raising their children, and if any negative consequences' were approaching their kids. I'm glad my parents weren't too bad. My dad could get a little out of hand however, even with how he was raised. His childhood wasn't bad at all. He went to church with his family, hung out with his brothers, and was loved by his parents. I'm not sure why his parenting skills were like they were. Some things changed between our generations, but there are also many things that stayed the same.


Inspirational words from parents to children include: "never give up", "try, try, and try again", "if not you, who else will do it". Growing up, I couldn't ever give up half way through a chore, drill, or paper. I wasn't a kid who loved putting forth the effort, but my dad made sure I did anyway. If I ever tried to quit, I would hear, "Just get it done, let's go. Right now. Come on, son!" Loud, and repeating in my ear. I was fragile as a little kid and cried easily. Whenever I would get yelled at, tears would start to form in the corners of my eyes. I couldn't stop them, and if my dad ever saw them he would light up with fury. "What are you crying for?" That's how he would always start his complaints. It usually ended with, "Quit being such a baby, just finish." So I'd finish, just to shut him up.


Getting an ear-full wasn't an everyday thing from my dad, because he wasn't ever home. He traveled too much for his job, and I only got to see him on the weekends. To most kids, the time spent with their father is some of their best memories. To me, I would dread my dad being home. My mom was so laid-back, we could jump on couches, scream at the top of our lungs, and race around the house like cars, basically anything we wanted to do. Friday and Saturday nights, we always wanted to stay up late, because we didn't have school the next morning. Well, my dad would make sure we were in bed by eight-thirty every night. We weren't even tired at the time, so we would sneak out and go watch television down-stairs. With the volume so low, it was almost pointless to even have the TV on. Being with my brothers is what made it truly fun. In that downstairs room, we would play hot-wheels, play board games, or play card games. No matter what the activity, the TV was always on. Getting past his room, we put more effort into not getting caught than a general would put into a war strategy. We thought he had some sort of super human powers when he'd catch us. We thought we were so sneaky, crawling like army soldiers, or walking on our tip-toes, we thought we were the smartest kids around. But my dad always heard, and within ten minutes we would hear his voice from upstairs, "Boys, you have three minutes to get your asses in bed, or else…" We knew that "or else" meant a spanking. If he ever came downstairs, we would just pretend to already be asleep on the floor, which usually kept us out of trouble. If we weren't in trouble, I felt like he was happy.


Trying to keep my dad happy was tough. He wasn't always upset, trying to pick a fight. My parents' fighting was the soundtrack to my younger years. But, when I was ten years old, my dad moved out for six months. The night he left, he my brothers and me down and tried to explain what was happening. Our family room never seemed so depressing; it felt so dark and cold. I didn't see this coming at all, but once we sat down I started to notice all the boxes piled up in the room. I hadn't realized they were there for the last week. It hit me, he was leaving, and all the tears I had built up inside my head started to pour. He told us how it would be from then on, "I still love you guys, not much is going to change, I promise." He did keep his promise, we didn't see him much before the divorce, and we didn't see him much after. But I still felt like everything changed inside. I knew nothing was my fault, but I felt I could have prevented it. I had the feeling I was a disappointment to him, and that the things I did weren't good enough. Not good enough for him at least.


No one has molded my life like my father has. Most dads aren't, but my I feel like my dad had a negative impact on my life. I still try to be sly with people, and hide things. And when it comes to doing a task, I just do it without a second thought, just in order to keep from being yelled at. But the divorce has had the greatest impact. I am a people-pleaser because of it. I don't always get what I want because I'm doing what it takes to make them happy, trying to never disappoint another person.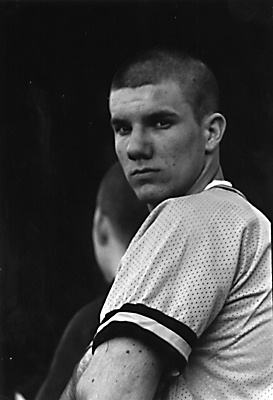 © Chris C., Milford, CT