A Day I did not Expect
October 25, 2010
Have you ever had a day where you think something completely normal happens, but something else may affect that thought? Well, today on October 26, 2010, an event so far from what I had expected occurred. To begin, I had a boring, slow day. I woke up and went to school, and scouted for that person who has had a crush on me ever since the seventh grade, which was two years from this date. I walked to my usual hangout area, and conversed with my friends. Soon after, that person walks by, and just catches my eye out of mere coincidence. The weird thing about this crush is that this person is one of the popular people with appealing faces. I, on the other hand, am a know-it-all, but a good-looking, athletic one, not to sound conceited. My face is probably the only thing that person likes about me.

That person is a mean, worthless jerk with an immature attitude. As you may think, someone like me, being a know-it-all, is in no position to judge. You are probably thinking, "Why don't you just date the person? Your social stance should not matter. At least someone likes you." I would not want to date a person as shallow and cruel as that person. On another note, the fact that the crush carried on for such a long time could mean that person is loyal. Although I shared not mutual feelings with that person, this event happened because of this person.

During the middle of lunch, I left my friends and went up to the main office to look for community service opportunities within the school for my Honors class. Five hours of in-school community service made twenty percent of my grade. As I walked up, I noticed that person talking to one of the school aids. The people around them created a circle with one gap big enough for me to go through. I did not want to know what was happening to that person, so I heartlessly walked by without laying another look on that person.

On my way back to my friends, I noticed that the scene cleared. I was glad and assumed that nothing too bad happened. I began talking to my friends about something, trying to torture that person because of how mean that person has been to my friends, and to me, with my looks and the fact that the two of us will never be together. That person then kept walking back and forth passing me, and I then realized that person instigated a fight. People tried to hold the other person back as my admirer teased and enticed the other person to fight. A feeling of distress ran through me, and I felt hopeless. I thought, "Are you crazy! Do you want to get hurt?" A sudden, unusual thought ran through my mind, "I for one don't want to see you get hurt in the slightest degree. I care about what happens to you." The thought was uncontrollable, and I could not shake that feeling. I spent the rest of the day in silence as I thought about what I thought. Why do I care? That person has been nothing but mean and rude to my friends and me. Why do I care? Is it for the selfish reason of have someone as popular as that person liking me? Or is it because I really care for that person for selfless reasons?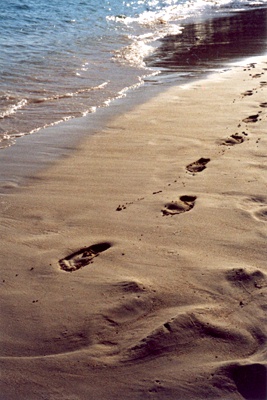 © Ashley B., Potomac, MD